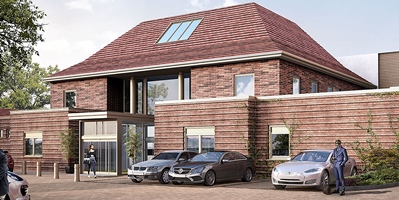 New Victoria Hospital, Kingston is well on the way to completing the first phase of its exciting new £21m expansion project, with the external structure of its new north wing now complete. The development will enable the hospital to meet a growing demand for its services as well as providing a complete update of its facilities.
In just a few months' time, the hospital will open its doors to:
Four brand new state of the art Operating Theatres replacing the existing 3 theatres
A brand new High Dependency Unit which will allow New Victoria Hospital to admit cases of greater acuity
A 14 Bed Day Surgery Unit, in addition to the existing 27 beds
A new enlarged Pathology Laboratory with state of the art Analyser
A new Pharmacy

Following on from this, later in 2017, the hospital will have completed the second and final phase of the development, which will provide:
A new Outpatient Department with new waiting room and reception area
5 additional Consulting Rooms with ancillary services, bringing the total number of Consulting Rooms to 12
A new enlarged Imaging Department to accommodate an expanding range of services and equipment.
Graham Ball, New Victoria Hospital's Chief Executive commented: "Of course the most important attribute of our hospital has always been the expertise of our staff and the caring ambience that pervades throughout. When the redevelopment is complete we will be as proud of the physical environment as we are of our patient care. The development will help us grow further and provide more state-of-the-art facilities for our patients and Consultants."