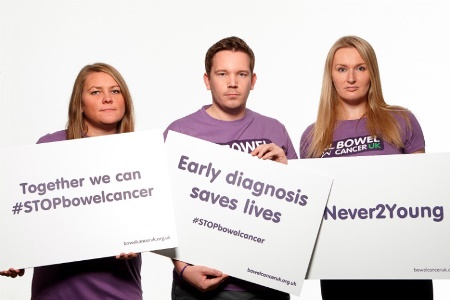 During Bowel Cancer Awareness month, New Victoria Hospital is pleased to offer men and women between 50 and 59 years of age the opportunity to take a home bowel cancer screening test - the Faecal Immunochemical Test*, for free. (Anyone aged 60 and over can have the test done for free on the NHS – just visit your GP). If you are worried that your tummy symptoms could be due to bowel cancer or you have a family history of bowel cancer, this sophisticated, non-invasive test is a proven way to identify if you need further, more invasive investigation.
If you meet the age criteria and would like to receive your free home testing kit, simply respond using the email below before the end of April. We will then post a bowel cancer screening kit to you along with instructions. You will need to return this by hand to the hospital within 24 hours of taking the sample, using the sealed envelope provided along with the completed form.
The sample will be tested in a laboratory and the results will be reviewed by Dr Andrew Poullis BSc, MBBS, MD, PGCert HBE, FRCP, a Consultant Gastroenterologist at New Victoria Hospital. Dr Poullis is an accredited screening colonoscopist for the National Bowel Cancer Screening Programme.
Dr Poullis will then write to you and your GP within two weeks, with the results of your test and what action may be required should you receive a positive result. Only around 2 people in 100 receive an abnormal result, which is when blood is found in a poo sample. This doesn't necessarily indicate bowel cancer and could be due to something like piles. However you should have this investigated further, usually with a colonoscopy.
To request your free home bowel cancer screening test, please email [email protected] with your full name, address details and date of birth. Any requests must be received by 30/4/2018. 
*FIT:  Method - ACTIN kit; Report: Qualitative (Negative or Positive); Substance being tested – faecal haemoglobin