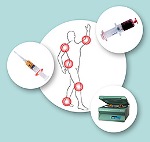 ACP Therapy is a new process now being offered by our Imaging Department.
The Arthrex ACP Double Syringe provides a unique, fast solution for preparing autologous conditioned plasma. It offers significant positive effects for Tendon Tears (Achilles tendon; rotator cuff); Ligament Rupture (ankle); Muscle Tears; Osteoarthritis; Tendinopathy (Achilles; elbow); Plantar Fasciitis irritation; Subacromial Syndrome; Knee Osteoarthritis.
ACP offers a natural, biologic therapy approach involving activation of the body's own factors in the blood. The healing of injured or inflamed tissues involves a complex and precisely regulated series of natural processes within the body. Thrombocytes (platelets) play an important role in this. At the site of injury they release growth factors that initiate the restoration of injured tissue and inhibit painful inflammatory processes. ACP Therapy is based on the understanding of these processes. With its high concentration of growth factors, it supports the body's self-healing processes.
The process involves blood being drawn from the vein in the arm followed by a separation procedure which extracts and concentrates the desired body substances - ACP. These substances are then injected into the affected region. It is a rapid outpatient procedure (20 minutes).
For further information contact Imaging on: 020 8949 9030 or [email protected]