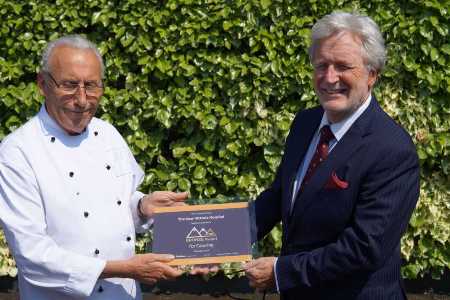 New Victoria Hospital has always been open about its commitment, "almost to the point of obsession" to the achievement of quality patient care. Recognising that food and the nourishment it provides forms an integral part of patient care, New Victoria Hospital took the brave step of enrolling on the CAP Award programme (Continuous Assessment Programme for catering) to demonstrate their commitment to delivering the very best in catering standards.
An independent assessor from the CAP Award Programme undertook a full audit of the catering provision at the hospital in March.  "It was one of the most rigorous and thorough inspections I have experienced throughout my career in catering.  The inspector left no stone unturned as he assessed the food and service we provide" said Geoff Booth, Catering Manager.  The dedicated, enthusiastic Catering Team will be working hard over the next few months to deliver on some exciting new initiatives.
"I am proud of everyone in our Catering Team for proving their commitment to progress the food service experienced by our patients at New Victoria Hospital.  They are embracing new trends and techniques with enthusiasm and are determined to achieve even higher standards of catering for patients in future" said Graham Ball, CEO New Victoria Hospital.