We know that coming into hospital can be daunting. However, we are here to make your visit as comfortable and as stress-free as possible. From relaxing waiting rooms to contemporary bedrooms, our modern day surgery unit to our garden courtyard, see where you will be staying with our virtual tour.
Private Patient Bedrooms
We have 19 comfortable, spacious single bedrooms with:
Ensuite bathroom with walk-in power shower
Air conditioning and temperature control
Lockable drawer for valuables
Wall-mounted flat-screen television and radio, including Sky News and Sky Sports
WiFi
Tablet available on request
Telephone
Adjustable lighting
Nurse call system
Electric bed with adjustable controls
Wardrobe and storage space
Safety non-slip floors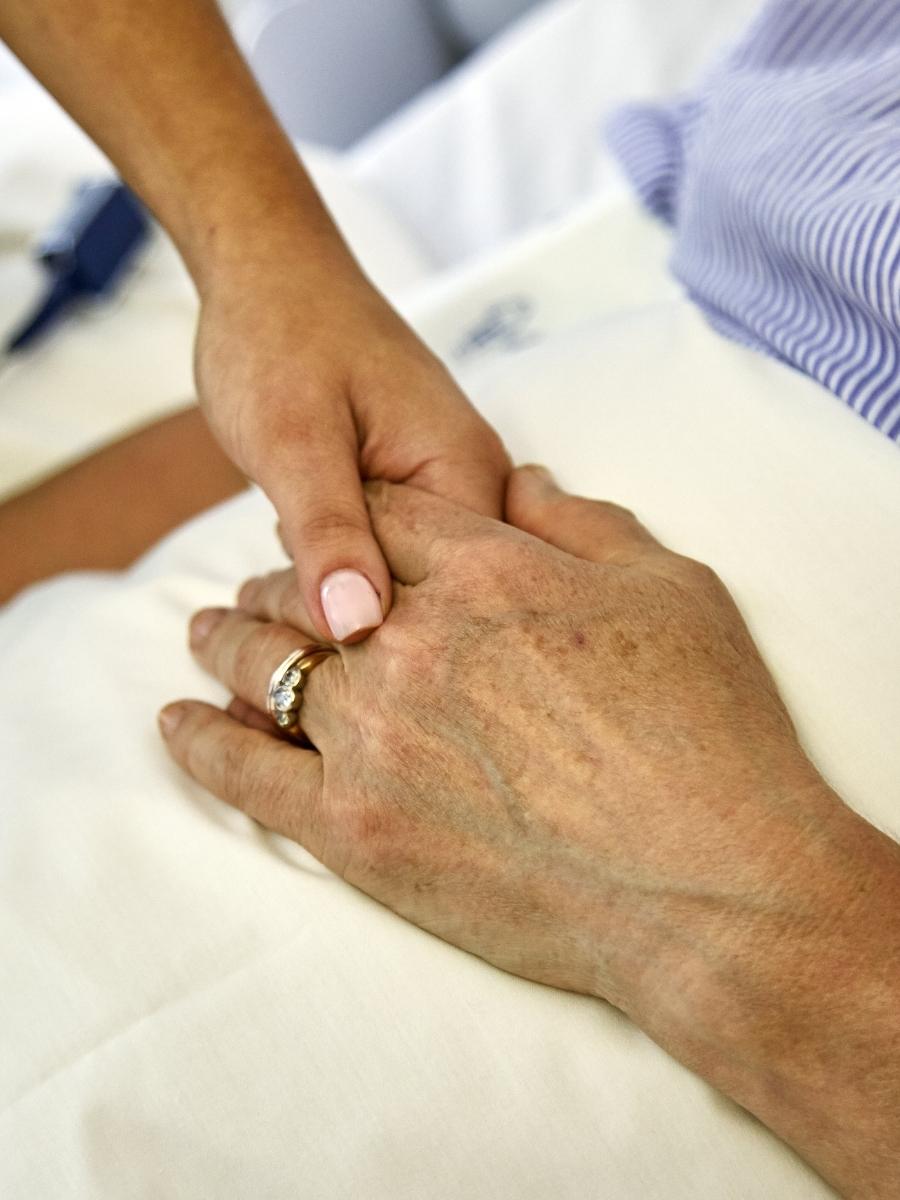 Charles Hutton Day Unit
Our day surgery unit has 14 separate bays. Each one has:
iPads on request
WiFi
Air conditioning and temperature control
Lockable drawer for valuables
Before Your Stay in Hospital
Pre-operative Assessments
Your Consultant may schedule an assessment before your operation, known as a 'pre-op'. These take place in our Outpatient Department with a fully qualified registered nurse and you will be contracted by the pre-operative assessment team to arrange an appointment.  You may also need to be screened for MRSA.
Doing all of this in advance will allow for a smooth admission on the day.
Do You Have Any Special Requirements Such as Wheelchair Access?
If you have any special requirements, hearing difficulties or visual impairments please let our Admissions team know on 020 8949 9010.
We can also arrange a wheelchair during your stay, for yourself or visitors. All of our entrances and exits are designed for wheelchairs.
Need an Interpreter to Help With Your Admission?
Please arrange to have one with you when you arrive here or contact us in advance to arrange one on your behalf.
Chaperones
For your dignity, you will be offered a chaperone during any treatments of an intimate nature.
Food, Drink and Smoking
Your admission information will explain whether you need to fast before your operation. Please do not drink alcohol or smoke in the 24 hours before your admission.
Taking Medication
Unless a healthcare professional or your Consultant has advised otherwise, please continue to take your prescribed medication.
It is vital to bring all the medicines you are taking, including oral contraceptives, HRT, vitamins and natural supplements. This allows us to make sure that they are compatible with any medication we plan to give you.
Please bring medication in its original packaging. Pre-loaded 'days of the week'-type boxes will not be accepted. We will store your medicines safely for you during your stay.
Pre-Operative Washing
To prevent surgical site infections, our operating theatre colleagues will prepare your skin with antiseptic. This works better if your skin is already clean.
Ideally, please bathe/shower on both the night before and the day of your surgery. If this is not possible you must bathe/shower on the day of your surgery.
Wash thoroughly for five minutes, paying special attention to the area where your surgery will be performed. Do not scrub your skin too hard.
Do not shave the area which will undergo surgery. Why? Any new cut, abrasion or rash will need to be evaluated and could delay your procedure.
If you wash your hair, use your normal shampoo.
Rinse your hair and body thoroughly to remove any residue.
Pat yourself dry with a fresh, clean, soft towel after each bath/shower.
Do not apply any lotions, perfumes or powders after bathing/showering.
Put on clean clothes or pyjamas.
Use freshly laundered bed linen for the night before surgery.
Remove nail polish or false nails.
Making Arrangements for Going Home
Even if you are feeling well, it is unsafe to drive or travel by public transport after an anaesthetic/sedation.
You will need to make arrangements for someone to collect you by car or accompany you in a taxi after your surgery/treatment. For at least the first 24 hours after you have left us, you will need someone with you.
What to Bring With You to Hospital
All Patients
All of your medications in their original pharmacy labelled bottles or blister packs
If possible, wear glasses instead of contact lenses, as these will need removing before any operation
Magazines, books, laptops, phones and chargers
Comfortable clothes to wear for when you leave the hospital
Overnight Patients
Dressing gown - slipper socks are provided
Pyjamas / nightdress
Toiletries, including a facecloth or baby wipes
Please Limit Your Valuables
You will have a lockable drawer in your room or Day Unit bay. However, as we cannot accept responsibility for any valuables or cash, please only bring the essentials.
Visitors
Day Unit
To protect patients' privacy and guarantee a safe recovery, visitors are not allowed in the Day Unit. 
Family members and friends are welcome to wait in the main reception areas. In exceptional circumstances, one visitor can be allowed in the Day Unit. 
Overnight Patients
You can receive family members, friends or carers between 10am and 9pm, up to two visitors a day. Only in exceptional circumstances, one carer can be allowed to stay overnight.
Read All About it
Are you coming in for a procedure? Our Reservations team will send you all the information you need with your admission letter.
You can also download copies of our leaflets:
Have any more questions?
Our Reservations team would be happy to put your mind at ease. Please call them on 020 8949 9006 or email [email protected]