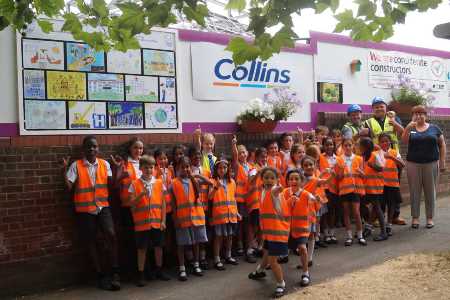 The final phase of the extensive expansion of New Victoria Hospital is moving ahead and on track for completion by spring 2019, when a new Outpatient Department and Reception with 12 Consulting Rooms and a new Physiotherapy department will be opened.
The hospital's building contractors, Collins, who are part of the Considerate Contractors Scheme, recently invited children from Coombe Hill Junior School to improve the hoardings around the development with some colourful pictures. The pupils were asked to draw pictures based on three themes: Construction, Environment & Hospitals.
The children all really engaged in the project and this week they came along to the hospital to see all of their colourful work on show. The displays were further enhanced by planted flower boxes and bird boxes donated by Collins. Collins also very generously donated a brand new folding aluminium scaffold tower to the school, as the school's maintenance team are unable to change their own high-level lights within the school, safely.
The hospital has invited the children to come back once the work is complete.