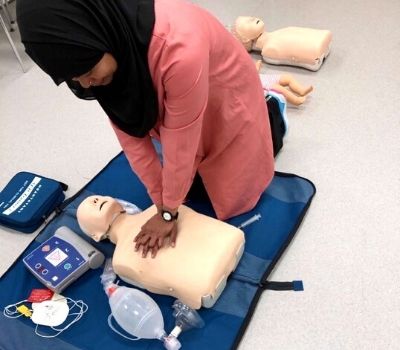 Over 35 GPs attended the Adult and Paediatric Life Support course organised by New Victoria Hospital, to provide valuable training on medical emergencies. 
Free CPR Course at New Victoria Hospital
New Victoria Hospital  ran the free course in partnership with A to E Training & Solutions Ltd, a medical-led company specialised in medical emergencies training.
The course was run over three sessions to allow attending GPs to actively participate in the class and get a better grasp on symptom recognition and management of common medical emergencies.
The session included:
Recognition & management of adult collapse and cardiac arrest
Overview of the causes of cardio-respiratory arrest in children
Recognition & management of adult choking
Recognition & management of the choking child
Overview of the signs, symptoms and management of anaphylaxis     
AED use
Resuscitation equipment
Danger to the rescuer
The course has registered extremely positive feedback from GPs
The feedback from attendees has been extremely positive.
The GPs who attended the CPR session received a CPD certification at the end, and were all very pleased with the content and outcome of the course.
"It was a valuable, interactive and practical session in a small group, gaining 2.5 hours mandatory training." Dr Tony Marwaha from Teddington Memorial Hospital commented.
If you want to keep updated with New Victoria Hospital free courses and initiatives for GPs and AHPs, sign in or email our GP Liaison Natalie Power at [email protected]