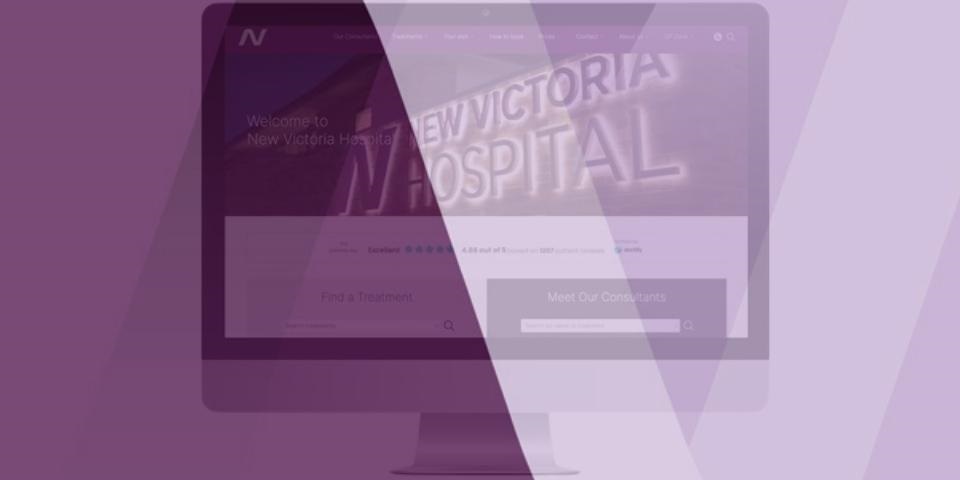 We are delighted to announce the launch of our new website. With a boutique hospital look and feel and more engaging content, the new platform is designed with patient needs in mind. The new website features new conditions and treatments pages, informative video content and easy navigation to ensure better user experience.
New Victoria Hospital has launched its new website www.newvictoria.co.uk with a fresh, stylish design, informative content and easy pathways for patients to find the details that they need, as well as enquire about treatments and appointments with Consultants, GPs and Physiotherapists.
New website features
Our new platform presents various engaging features, including:
A simplified, leaner menu to explore what New Victoria Hospital has to offer and providing easy access to information that users need
A body area research function, to allow patients to find Consultants and treatments relating to a specific region of the body, depending on where symptoms are located
User-friendly Consultant profiles showcasing their biographies, clinical interests, clinic times and videos to help patients get acquainted with the specialist before their appointment
Informative and engaging video content
The new website includes educational videos to guide patients and inform them about the prevention of common conditions, treatment options and when it is advisable to see a specialist.
Patient experience is fundamental, and we know that the relationship with our staff and Consultants plays a key role. The new website features a number of "Meet Your Consultant" videos to give patients the opportunity to get to know their doctor before booking an appointment.
David Marshall, New Victoria Hospital's CEO, said, "The new website reflects the Hospital's work and values, and represents our continuous effort to innovate and to offer the best experience possible to our patients."
We would like to thank all of the teams involved in this project. We encourage everyone to visit www.newvictoria.co.uk to explore our services, from Imaging and Physiotherapy to Self Pay packages and all the valuable information you need for your Hospital visit.