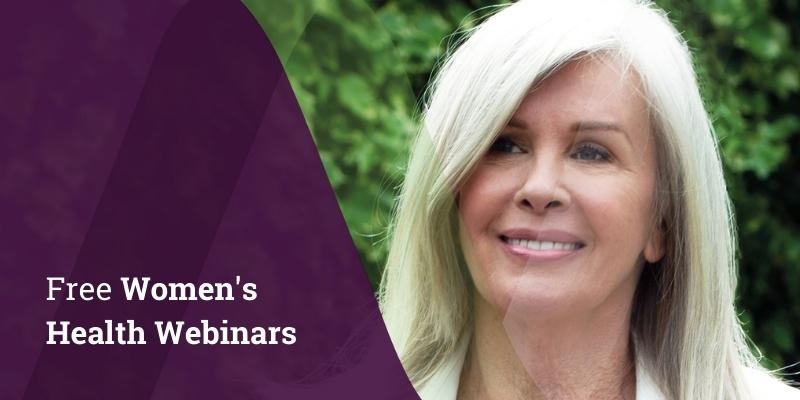 With elective gynaecological surgeries being cancelled or delayed and limited access to women's health services during the pandemic, many patients are now in need of specialist care. We will dedicate a new online event series for Women's Health to be held on Zoom in March.
Gynaecological procedures have experienced one of the greatest backlogs, and many women have been left to struggle with their condition and self-manage symptoms. 
New Victoria Hospital's Women's Health Webinars with interactive Q&A sessions
Following the positive feedback on previous webinars, New Victoria Hospital will hold two new Patient Webinars dedicated to women's gynaecological and urological health.
Specialist Consultants will cover different topics, including menopause, urinary incontinence, UTIs and endometriosis, and will answer questions that patients can submit anonymously during their registration for the event.
Patients will also be able to ask additional questions using the Q&A tool on Zoom.
Women's Health Webinar dates
The Webinars will be held on the 9th and the 15th of March, with one gynaecology and one urology topic covered in each session.
Let's talk about menopause with Consultant Gynaecologist, Ms Diana Fleming
Sweats, flushes, brain fog, aches, pains, dry, itchy; all words used to describe some of the things women might feel as they transition through the menopause.
How can a specialist help you to get through this time? What hormones are needed and why? How can they be taken? For how long and what are the benefits and possible risks? Ms Diana Fleming will answer questions on this normal but troublesome time in a woman's life.
Urinary Incontinence: what can be done when you can't hold it with Consultant Gynaecologist and Urogynaecologist, Professor Stergios Doumouchtsis
Urinary incontinence and pelvic organ prolapse are common conditions and affect millions of women worldwide. Many women suffer in silence as they find it embarrassing to talk to a specialist.
Prof Stergios Doumouchtsis will talk about conservative and surgical treatments that can dramatically improve women's symptoms, quality of life and, most importantly, prevent long-term consequences.
My bladder is bugging me - Urinary Tract Infections in Women with Consultant Gynaecologist and Urogynaecologist, Miss Rhiannon Bray
UTIs are a debilitating condition that can affect women of all ages. Recurrent infections can be especially challenging to treat. 
Miss Rhiannon Bray will discuss the common causes of Urinary Tract Infections, as well as novel theories and preventative measures and treatments.
Endometriosis, the invisible painful illness with Consultant Gynaecologist, Mr Zaid Hasafa.
One out of ten women has endometriosis, while half of women with subfertility could have the disease. There are around 1.5 million women suffering from endometriosis in the UK.
Despite the large number of patients and the painful symptoms, the average delay in achieving the diagnosis is eight years. Mr Zaid Hasafa will help you understand the disease and learn how to deal with it. 
How to access New Victoria Hospital's Patient Webinars
To access the Patient Webinars, you need to register for each event you are interested in on Eventbrite.
Click on the "Register Now" button
Complete the registration form with your details
At the end of the form, you will have an opportunity to ask any questions that the Consultant will answer during the webinar
Once registered, you will receive a confirmation email with a Zoom link to the webinar
At the time of the event, click on the link provided in the confirmation email. You will automatically join the online event from the comfort of your home.
If you are struggling with symptoms or have questions about therapies and treatments available for menopause, incontinence, UTIs or endometriosis, this is an excellent opportunity to receive free medical advice from New Victoria Hospital's highly specialised Gynaecology and Urogynaecology Consultants.
Should you have any questions, please call 020 8949 9090 or email us at [email protected]