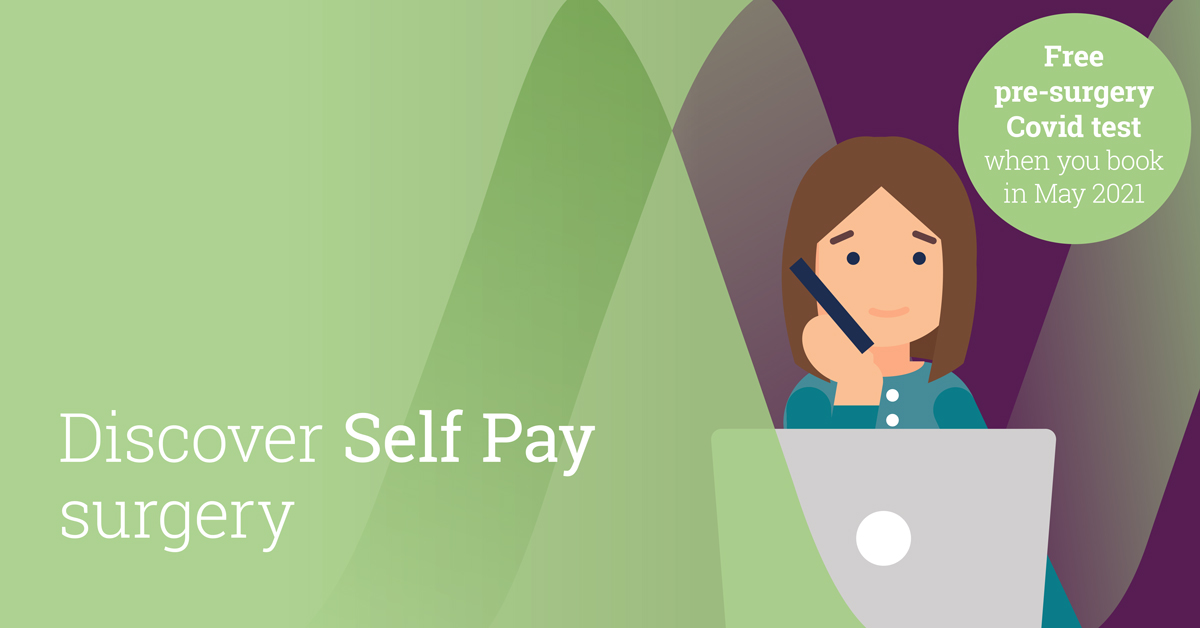 Following the end of our Covid-19 partnership with NHS England and the increasing need for healthcare services in our community after the pandemic, New Victoria Hospital will offer a free pre-surgery Covid test to all patients who book their Self Pay procedure in May 2021.
Self Pay surgery at New Victoria Hospital
Self Pay surgery at New Victoria Hospital covers a wide range of specialities and treatments, from joint replacement procedures and inguinal hernia repairs to sinus surgery, colonoscopy and hysteroscopy among many others.
Our Self Pay packages are clear and all-inclusive.
You will be able to choose your own Consultant, have a personalised care plan, and direct access to diagnostic examinations, such as Imaging, blood tests, and ECGs.
All pre and post-operative care services will be included in your package with no hidden or extra fees.
We want to invite more people in the local community to play an active role in their health, and book treatments and surgery that have been postponed over the past year.
New Victoria Hospital's CEO, David Marshall, said, "As a private healthcare provider, we want to encourage people in southwest London and Surrey to put their health first and seek medical advice and ad-hoc treatments, especially if they suffer from a chronic condition or have been waiting too long for their surgery.
With the free pre-surgery Covid test we would like to make more patients benefit from our Self Pay services and have fast access to specialist care and better health."
Free pre-surgery Covid test for all Self Pay patients
When you or your Consultant book your Self Pay procedure in May 2021, the pre-surgery Covid test will be included for free in your package.
It is a great opportunity to avoid long waiting times, see a specialist and receive dedicated and attentive care.
100% of our patients have rated the quality of care at New Victoria Hospital very good or excellent.
If you would like to know more about Self Pay at New Victoria Hospital and benefit from the free pre-surgery Covid test, call 020 8949 9090 or: book your appointment by filling in our online form.