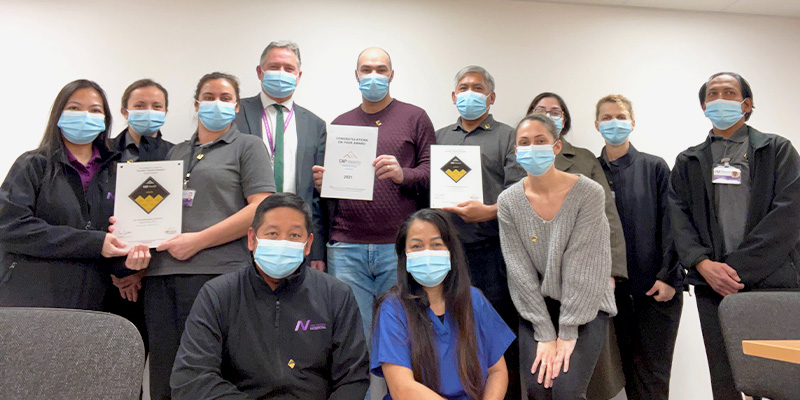 We are proud to announce that our Housekeeping Department have been awarded a Gold Status in the Continuous Advancement Programme (CAP) Award following an unannounced inspection by the CAP team.
The CAP Award
The CAP is a development scheme for cleaning and catering services in the Healthcare and Education fields that helps teams to achieve high standards of cleanliness and hygiene within their organisations.
Platinum, Gold, Silver and Bronze awards are given to organisations that reach the relevant standards set out by assessors and are reviewed against rigorous checklists.
Our Chief Executive David Marshall said "This fantastic achievement builds on our previous Silver status, and has been made possible thanks to all of the hard work and efforts of our Housekeeping Manager, Sorina Sgaverdea and the whole Housekeeping Team".
A team effort
Our team have been working with the CAP since 2019. The CAP framework has encouraged our team to continue to aim for higher standards with increased attention to details, and dedication that is required to meet the the CAP standards.
Our team also received an action plan for further improvement, so that as a Hospital we can aim to improve on our gold status, and continue to ensure that our patients and visitors are provided with the highest standards in hygiene and cleanliness.
The Housekeeping Manager Sorina said "Over the past two years, we have gone above and beyond to guarantee exceptional levels of hygiene with increased safety and cleanliness measures during the pandemic. It has been a challenging period for all of us, but this Award demonstrates that hard work and commitment is valued and recognised by organisations and patients".
We would like to thank our patients for their lovely reviews relating to our hygiene standards as well as our Housekeeping team for their hard work leading up to this inspection and congratulate them once again for this great achievement!