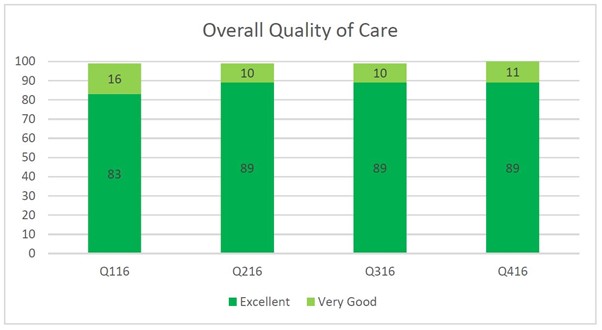 We are delighted to share the results from our completed 2016 Inpatient Survey
From January to December 2016, a fantastic 99% of responding patients rated our Nursing Care as Excellent or Very Good.
In addition over 99% of patients said that they would be Extremely Likely or Likely to "Recommend us to family and friends" - again, a terrific acknowledgement of the dedication and professionalism of all of our staff both clinical and non-clinical.
Furthermore every single patient said they were treated with consideration and courtesy by their Consultant at New Victoria Hospital. 
Our patient surveys are conducted independently by an external agency, Howard Warwick Associates. Over 29 London hospitals were independently monitored by HWA in 2016 and we are delighted to say that New Victoria Hospital ranked top in many categories, positioning us as one of the best private hospitals within the M25.
The feedback we gain from the service we deliver is vitally important to us and we would like to thank all of our patients who take the time to complete these surveys.