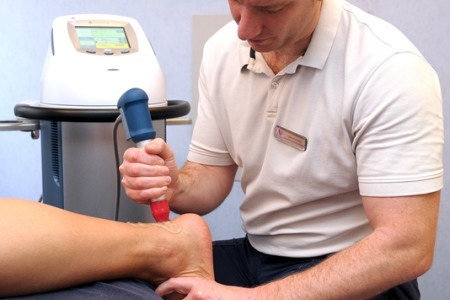 Our Physiotherapy Department is pleased to now offer Shockwave Therapy
Shockwave therapy is a safe, highly effective, non-invasive treatment used in the management of soft tissue injuries, such as Achilles tendinopathy. It uses acoustic waves carrying high energy to target pain and damaged tissue, promoting regeneration and repair of tendons, bones, and muscle.
When applied to the body, shockwave creates a localised, intense vibration causing a controlled inflammatory response which stimulates a healing reaction at the injury site.
Typical conditions which can be helped by Shockwave therapy include:
Feet - heel spurs, plantar fasciitis, Achilles tendonitis.
Elbow – tennis and golfers elbow.
Shoulder - calcific tendinosis of rotator cuff muscles.
Knee - patellar tendonitis.
Hip – bursitis.
Lower leg - shin splints.
Shockwave therapy is covered by most major insurers and is also available for Self Pay patients. 
For further information call New Victoria Hospital Physiotherapy on 020 8949 9040 or click here.