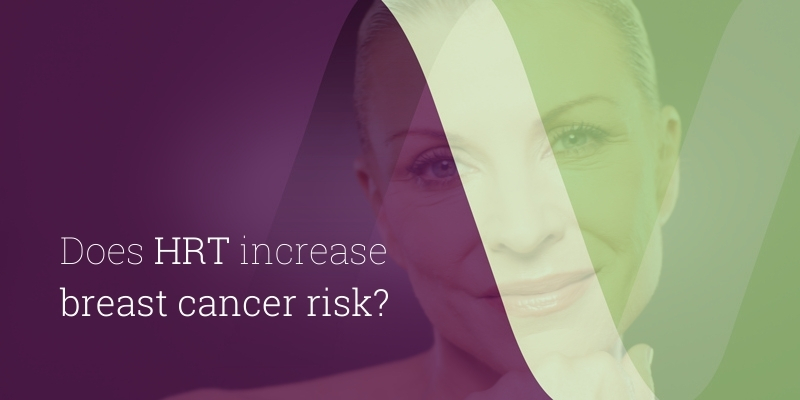 1 million people in the UK use HRT as a menopause treatment. Recent studies on breast cancer risk associated with Hormone Replacement Therapy have led to different findings that might have concerned many women. This article clarifies the role of HRT to treat menopause symptoms and when it's considered a risk factor for developing breast cancer.
What is HRT?
Hormone Replacement Therapy is a treatment that helps reduce menopause symptoms such as hot flushes and mood swings.
During menopause, your body reduces the production of oestrogen and sometimes testosterone. By supplementing hormones with therapy, symptoms can be milder or absent.
There are different forms of HRT. Oral HRT in the forms of tablets or transdermal therapies that release the oestrogen through the skin and come in skin patches, gels, vaginal creams or, less commonly, implants.
You should always discuss with your GP or a menopause specialist which treatment would be better for you.
HRT benefits
Hormone Replacement Therapy helps to reduce menopause symptoms such as hot flushes, night sweats, mood swings, vaginal dryness and reduced libido.
HRT has also proved to be beneficial to prevent:
Osteoporosis
Heart disease, vascular disease and stroke
Metabolic conditions
Body-identical HRT
The British Menopause Society has suggested body-identical as the preferred term to indicate that the HRT treatment uses the same hormones produced by the ovaries, the adrenal gland and the thyroid.
This therapy is different from the bioidentical hormone therapy that uses compounded varieties that may have more associated risks. These products do not follow the same regulatory pathway of evaluation by the MHRA.
The efficacy and safety of compounded hormones are not known. This type of therapy is not recommended by the main Menopause Associations both on a national and international level.
Does Hormone Replacement Therapy increase breast cancer risk?
A 2019 study published in The Lancet has shown a 2% increased breast cancer risk for women between 50 and 69 years old who started combined daily HRT at 50 years old, and 0.5% increased risk for oestrogen-only HRT. The risk would be twice as high for 10-year HRT users.
The Lancet study doesn't take into account other higher risk factors
The Lancet study has many limitations.
It is based on a meta-analysis on many studies following different protocols, which can be difficult to compare.
Moreover, as the British Menopause Society points out, it doesn't consider other lifestyle factors such as alcohol intake and obesity which have been shown to be associated with a higher risk compared to that with HRT. HRT therapy has so many benefits, including bone preservation, that taking into account breast cancer risk in isolation without weighing up its numerous benefits could be misleading.
The risk of developing breast cancer associated with HRT depends on many factors, including the type of hormones used, the dosage, the length of the treatment and your age, and data should be interpreted with caution.
Putting things into perspective
The increased breast cancer risk from HRT is minimal.
The British Menopause Society state the increased risk is equivalent to having two glasses of wine per day or using the contraceptive pill.
There is no increased risk of dying due to breast cancer following HRT treatment.
Often, HRT benefits outweigh associated risks, and lifestyle changes can significantly reduce them.
Lifestyle factors can help reduce breast cancer risk
There are many things that you can do to reduce breast cancer risk:
Keep a healthy weight
Exercise 2.5 hours per week
Have a balanced healthy diet
Reduce smoke and alcohol consumption
All these actions can greatly reduce the risk of developing breast cancer. Much more than minimising HRT use would do!
Obesity increases the risk of breast cancer by 6 times. Smoking for over 10 years increases it by 21%.
HRT is a very effective treatment for healthy women who experience menopausal symptoms, but it's important to evaluate each case carefully.
A holistic and tailored approach to menopause treatment is always advisable. Taking into account all factors that can have an impact on the benefit/risk analysis is key for successful and safe treatments.
This article has been reviewed by Dr Naomi Potter, Menopause Doctor at New Victoria Hospital,
If you would like to discuss your symptoms or current therapy with our Menopause specialists and Gynaecologists, you can call us on 020 8949 9020 or: