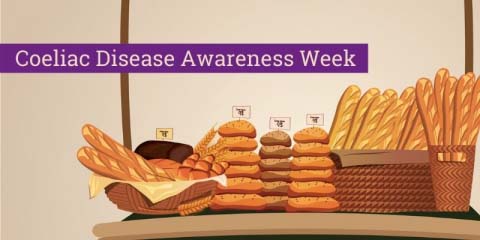 Coeliac Disease is a chronic condition where your body's immune system has an inflammatory response when you eat gluten. During the Covid-19 pandemic, it is even more important to stick to your gluten-free diet, if you have already been diagnosed with Coeliac Disease. However, if you experience symptoms, it can be challenging to seek medical advice during this time. It is Coeliac Disease Awareness Week and Dr Rishi Goel, Consultant Gastroenterologist at New Victoria Hospital, helps you to understand this condition and identify symptoms during the Coronavirus emergency.
The numbers of Coeliac Disease
Coeliac Disease is a very common condition that affects about 1% of the UK population. However, 30% of cases remain undiagnosed while people struggle with symptoms. It is estimated that there are about 500.000 people who have Coeliac Disease but are not aware of it.
If you suffer from Coeliac Disease, your immune system is triggered to react to gluten, by attacking your gut lining, preventing your body from absorbing nutrients from the food you eat. Gluten is a family of proteins contained in wheat and other grains, which gives shape to food and keeps the molecules together.
A gluten-free diet is the only way to stop symptoms and improve quality of life.
The most common symptoms of Coeliac Disease are similar to IBS symptoms
It can be challenging to diagnose Coeliac Disease from common symptoms, and this condition can often go undiagnosed for many years. Symptoms can be mistaken as signs of IBS, food intolerance, or indigestion.
The most common symptoms include:
bloating
diarrhoea
nausea
wind
constipation
tiredness
mouth ulcers
sudden weight loss
anaemia
If any of these symptoms persist or you notice an immediate reaction right after you eat bread, pasta, biscuits or any other food containing gluten, you should speak to your GP or book an appointment with a Gastroenterologist.
After a detailed history, where lifestyle and symptoms are explored, a blood test is usually done to check for Coeliac Disease. The best and most accurate way to diagnose Coeliac Disease is to take a duodenal (small bowel) biopsy to see if the gut lining is affected.
This is a very safe, simple and straightforward test, and sedation can be offered if needed. It is important to keep eating gluten during the diagnosis process.
The misconception about Coeliac Disease and Coronavirus
Although Coeliac Disease is an immune condition, you are not at greater risk of getting coronavirus or developing complications from it. At present, there is no scientific evidence to suggest that people with Coeliac Disease have a compromised immune response to infection and viruses.
How to cope with Coeliac Disease over the coronavirus pandemic
If you have already been diagnosed with Coeliac Disease, you should keep following a gluten-free diet. Now that you are spending more time at home, it is the perfect occasion to try new recipes and get creative with gluten-free food.
If you experience any of the symptoms mentioned above or have a reaction every time you eat gluten, it is important that you seek advice from your GP or Gastroenterologist.
Being diagnosed with Coeliac Disease can be life-changing, but when you start implementing the right changes in your diet, you will start to feel better, and your gut lining will heal too.
If Coeliac Disease is left untreated or poorly treated, it may lead to serious conditions such as:
malnutrition
skin rashes
osteoporosis
lymphoma
If you are concerned over your symptoms, it is important to seek medical guidance.
If you would like to speak to a specialist, our Consultant Gastroenterologists are available to offer video consultations and if you would like to make an appointment, you can call our Outpatient Department on 020 8949 9020 or email [email protected].