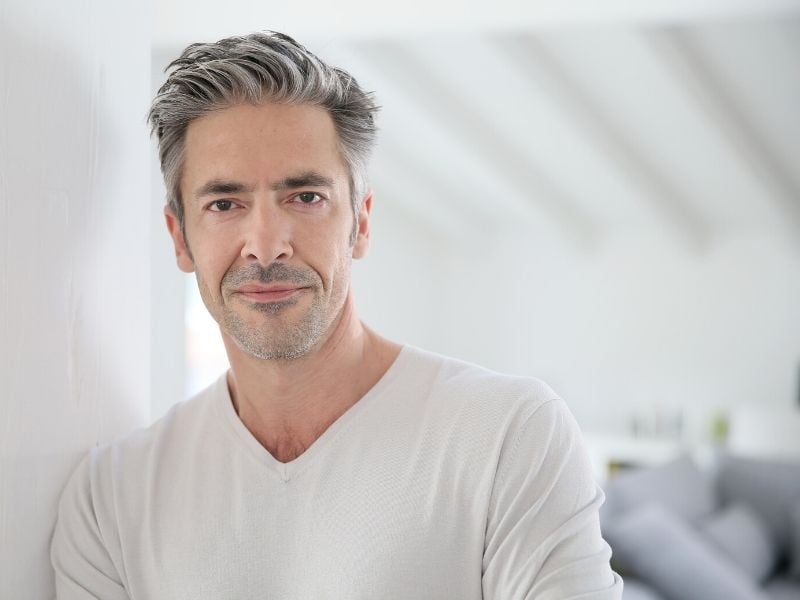 March for Men charity races have officially started, and Mr Pravin Menezes provides some news on the latest studies on prostate cancer (PCa). One in six men will develop prostate cancer in their lifetime.  Many will progress to advance disease simply because, in this century, men live longer. Men's anxiety is compounded by the fact that prostate cancer has no visible symptoms in its early and potentially curable stages.
Not all prostate cancers are the same
Prostate is a gland found only in men and transgender women, located underneath the bladder and its main function is to produce a fluid to create men's semen.
When prostate cells grow without control, cancer develops. Prostate cancer, PCa, is quite common, and many studies have shown that it can be found in 80% of men above the age of 80.
However, not all prostate cancers are the same, and only some are aggressive and need treatment.
The risks of prostate cancer
Two facts are well known. Eunuchs, children and young adults do not get PCa.
Different factors can increase the risk of developing prostate cancer, and since screening is not currently recommended in the UK, it is extremely important to be aware of them and seek medical advice should you have any concerns.
Age
White men over 50 with family history and black men over 40 are considered at risk of developing prostate cancer. NICE recommends testing if other risk factors are present.
Race
Black men generally present with advanced disease. This raises the possibility that prostate cancer in black men may be more aggressive. Also, age as a risk factor for black men, drops to 40 years old. African American men have been found to have more common chromosome 8q24 variants, that are associated with a higher prostate cancer risk.
Family history
Risk is increased 10 times if there is genetic linkage to men with prostate cancer. If one or more first-degree relative has PCa, the chances of getting this type of tumour at 60 are very high. About 20% of all prostate cancers are estimated to have a genetic cause. It is much higher than colon or breast cancers, which have a genetic factor.
Geography of origin
Epidemiological studies have shown highest rates (190 per 100000) in African American and Afro Caribbean. Whites follow this with a rate of 140 per 100000. In Hispanics it is 90 per 100000 and 25 in Koreans. Japanese, Chinese and Asians have the lowest rate of PCa. There are perhaps other epidemiological factors, because it's been observed that within a generation or two of moving regions, the risk category changes.
Diet
Diet and other environmental factors can increase the risk of prostate cancer. Some studies have found that saturated animal fats, overcooked red meat and dairy products high in calcium are associated with a higher risk of developing PCa.
Lifestyle and obesity
Physical inactivity and a BMI over 30 increase the risk of developing prostate cancer, among many others. Obesity leads to insulin resistance which in turn increases the level of insulin in the body, which promotes malignant cell growth. Men suffering from obesity are often misdiagnosed as their PSA level, the protein in the blood that might be a sign of prostate cancer, tends to be lower due to a more plasma-diluted blood.
Hormones
This factor is less understood. We know that Eunuchs don't get PCa. Also, testosterone levels naturally decrease with age after 60. But blocking testosterone has been the therapy for treating PCa. Some studies suggest that non-androgenic hormones such as estrogen and insulin can play a role in the development of PCa.
How is prostate cancer diagnosed
If you have two or more risk factors or experience any symptoms such as urinary problems, blood in your urine, pain in your lower back or unintentional weight loss, it is recommended to see your GP as soon as possible, or you can book a consultation with a private Consultant Urologist.
The exams to diagnose prostate cancer are:
Blood test: to look for PSA (prostate specific antigen) level which tends to rise in response to cancerous cell development in the prostate. However, high levels of PSA don't necessarily mean that you have prostate cancer.
DRE exam: it is a digital rectal examination where the prostate gland is checked via your rectal passage to look for lumps. It can be a bit uncomfortable, but it is not painful and doesn't last long, and it can save your life.
MRI: a scan might be prescribed to have a visual examination of the prostate and to notice any abnormalities in the prostate and surrounding tissues.
Biopsy: this is the only test that can detect prostate cancer and make a precise diagnosis. Some prostate cells are collected either with the guidance of a trans-rectal ultrasound or with a transperineal biopsy.
Early detection is the best form of prevention for prostate cancer
Early detection is vital to start treatment as early as possible when cancer has not spread to other organs. However, an effective prevention strategy for PCa will definitely benefit men and have a substantial positive impact on public health. Lifestyle modification may retard PCa development.
Observational studies of migrants, geographic variation and some specific studies have enhanced our knowledge.
Diet
Fat intake: studies have shown increased incidence and mortality from PCa with high intake of fat (western diet).
Vitamins: vit A, C, and D have their role in prevention of cancer in general. Vit E supplements are shown to reduce PCa especially in smokers
Vegetables: studies have shown two types of vegetables to be beneficial in preventing PCa. Cruciferous such as broccoli, cabbage and Brussel sprouts as well as tomatoes, because of their high content in lycopene, are natural scavengers
Trace elements: zinc is present in high levels in prostate. It is thought to control the androgen to androgen-receptor binding.  PCa gland when compared with normal prostate gland, was found to have lower levels of zinc. Zinc is present in baked beans, chickpeas and nuts. Selenium inhibits viral and chemical-induced cancers. Various studies have indicated lower selenium levels associated with advanced PCa. Fish, shellfish, eggs, liver and garlic are good source of selenium.
Alcohol intake
Although theoretically alcohol should increase metabolic clearance of testosterone and therefore decrease PCa incidence, this effect is only seen in very heavy consumption. Moderate intake is associated with an increased risk of PCa.
Medical advice
If you think you are in a high-risk category, first is to see if any preventative measures can be strictly adopted.
Curable prostate cancer in its early stage is asymptomatic. In my practice, I have noted that the anxiety factor slowly and steadily increases. I, therefore, advocate seeing your GP or a urologist for advice.
With the consultant, there will be a discussion noting all risk factors and examination findings. If you see a urologist after a blood test that shows high PSA levels, it is quite likely that an MRI scan and biopsy of the prostate will be requested.
If you would like to book an appointment with one of our Consultant Urologists at New Victoria Hospital you can call 020 8949 9020 or: