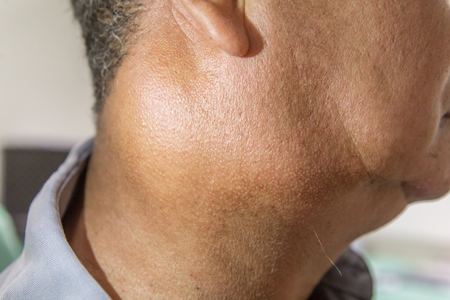 If a neck swelling or lump appears with no corresponding infection, it is wise to have this urgently investigated.
New Victoria Hospital's new One-Stop Neck Lump Clinic is a gold standard service, providing a complete and comprehensive pathway that minimises unnecessary anxiety through the provision of a rapid diagnosis. The clinic is truly multi-disciplinary, with patients benefitting from the input of a Head and Neck Surgeon, Radiologist and Cytopathologist with substantial expertise in managing head and neck cancer patients.
Patients can be referred for any suspicious neck lumps and rest assured of a thorough clinical assessment, same day ultrasound neck scan, +/- biopsy if required, and accelerated pathology reporting. The clinic streamlines patient diagnosis and treatment, improves accuracy by clinical correlation, and reduces the chance of cancerous lymph nodes being inappropriately removed for diagnosis. It offers a significantly shorter and less-stressful pathway for patients.
For full details of the service see: One-Stop Neck Lump Clinic
To make an Outpatient Appointment with ENT and Head & Neck Surgeon Mr Enyi Ofo contact Outpatients on: 020 8949 9020 or complete an online appointment request.