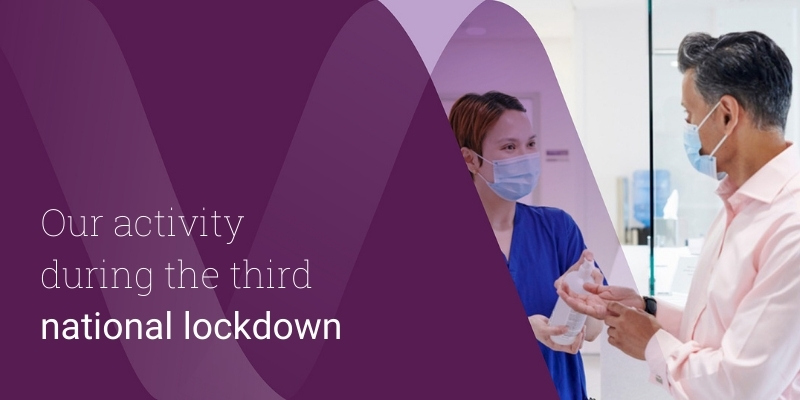 While we face our third national lockdown, we would like to reassure our community that New Victoria Hospital is open and ready to look after our patients' health needs in a welcoming and safe environment.
Since the beginning of the Covid-19 pandemic, the Hospital has been committed to enhancing its infection prevention control measures and maintaining New Victoria a Covid-free space, as far as possible.
There have been a few changes to the way the Hospital operates to ensure our patients, staff and Consultants can work in a safe and protected environment.
Our infection prevention measures
Following guidance from the Department of Health and Public Health England, the additional Hospital's measures include:
Screening all patients, visitors, staff and consultants, to ensure 'Covid Safety' on arrival
Adherence to Public Health England, Personal Protective Equipment (PPE) guidelines, to help limit the spread of Covid-19
Regular Covid-19 testing for our staff  
Increased cleaning regimes, and the use of different cleaning products during this time
Social Distancing measures are implemented wherever possible including reception desk screens, floor markings and less seating
New patient flow and processes for all Outpatients and Inpatients
Attending your scheduled appointments during lockdown
Under the national lockdown, it is important that your follow the Government guidelines and leave home only when necessary, such as for medical reasons. 
You can attend the Hospital for Outpatient appointments or for admitted care.
Please, do attend your scheduled appointments, especially if you are concerned about some symptoms or condition.
Virtual consultations with our specialists are also available. If you would like to make an appointment for a telephone or video consultation you can send an email to [email protected] or call us on 020 8949 9020.
For more information on New Victoria Hospital's guidelines for outpatient and surgery treatments, visit our dedicated Covid-19 advice page.
We understand this can be a tough time for all of us, but we recommend our community to keep looking after their health and to not delay medical appointments and treatments, unless you are self-isolating or display Coronavirus symptoms.
We are committed to provide all patients with prompt healthcare services, even more during these challenging times.
Stay safe and look after yourself.