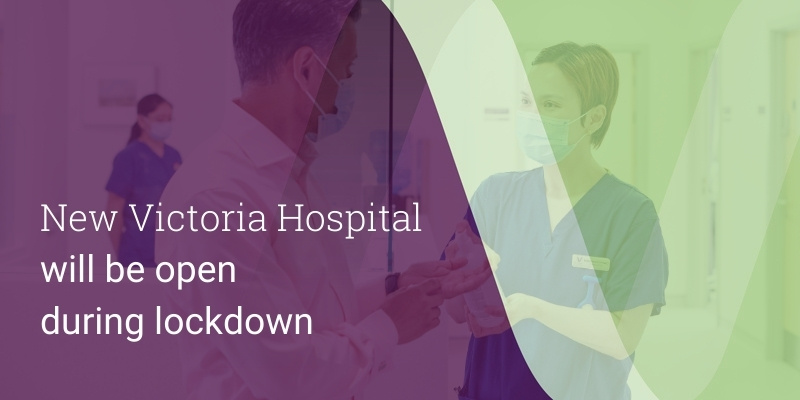 Our message on the importance of healthcare services during the second the lockdown 
Dear patients,
We hope you are all well and keeping safe whilst absorbing the news of a second lockdown put in place by the Government. 
We would like to reassure all our patients that New Victoria Hospital will continue to be open, and we will be providing outpatient consultations and treatments as well as surgical procedures, as planned. 
We can confirm that access to routine appointments will remain throughout the national lockdown, as the public health measures announced on Saturday permit travel for healthcare reasons.
Please, attend your appointments as scheduled.
Our enhanced infection prevention control measures continue to be in place throughout the hospital and are reviewed and updated regularly.
Please visit our Covid-19 protocols page for further information before you attend your appointment or surgery.
We have also introduced virtual consultations which can be booked directly for your convenience by calling our Outpatient Department on 020 8949 9020. 
If you are concerned about a medical issue, are in need of urgent medical care or are in self-isolation, please contact us by email at [email protected], and one of our friendly team will attend to your needs.
We want to extend our heartfelt thanks for your support through these times and most of all we need you to know that we are here for you and ready to respond to your care needs.
It is important that you don't delay your healthcare and look after your wellbeing, even more during these challenging times. 
We wish you all good health.
New Victoria Hospital