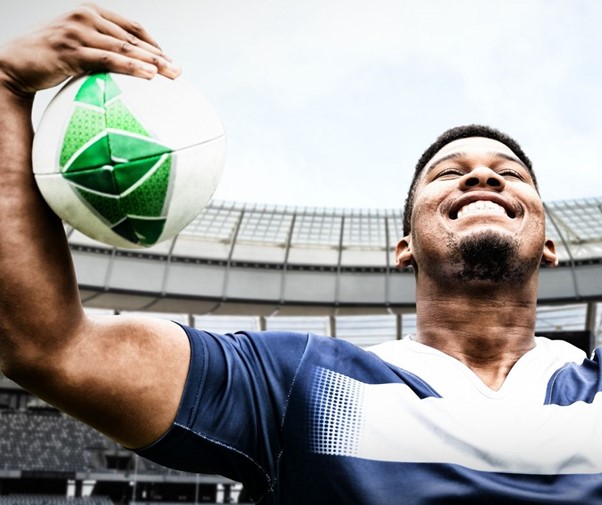 With Wales and Italy officially kicking-off the Six Nations rugby tomorrow, the excitement is really building. Rugby is one of the most popular sports in the UK, but also one with the highest risk of injuries. Tom Stukins, Deputy Physiotherapy Manager at New Victoria Hospital, takes you through some of the most common injuries seen in rugby and how to prevent them or how best to manage them if you are unfortunate enough to sustain an injury.
The British love rugby 
Rugby is the third most practised team sport in the UK, after football and cricket. It is estimated that over 2 million people play rugby in the UK, including registered club members and amateurs. Over 17% of people follow it on TV.
The most common rugby injuries
With the ever-greater physical stature of players in the game and with the tremendous level of impact, rugby is considered to be one of the most high risk sports for player injury.
The England Professional Rugby Injury Surveillance Project, 2017-2018 season report categorises the injuries seen in the professional game in England and Wales, including European cup matches. 
Many of the 2017-18 statistics continue the trends from previous seasons, but there are some notable changes in some areas.  
Shoulder dislocation ranks first as the most serious injury in training
Shoulder dislocation accounts for an average of 206 days lost from training and match play.
Rugby-related shoulder dislocations often occur during the tackle when the impact is taken at an awkward or unusual angle or, if the shoulder is subject to high force, in an outstretched position as when reaching to catch the ball.  
Concussion is the most frequent injury in match play
For the third consecutive year, concussion accounts for the highest number of match play injuries. Concussion occurs when a player is knocked unconscious by a blow to the head.
A player who sustains their first concussion is not permitted to return to match play for a minimum of 6 days to minimise the risk of long term brain injury.  In the 2017-2018 season 140 match day concussions were reported, with 86% returning to match play in 28 days.
Hamstring and medial collateral knee ligament (MCL) injuries are the second and the third most frequent
Hamstring injuries come in second followed in turn by medial collateral knee ligament (MCL) sprains. Finally, less frequent injuries are thigh haematomas with AC joint sprains/disruptions.
How to prevent rugby injuries
For the first time during the 2017-2018 season, the burden of injury (days lost to injury) to the tackler was greater than for the ball carrier.
For those playing the game at any level, this data highlights the importance of ensuring optimal tackle technique and the emphasis that should be placed on this element of training to help minimise the risk of injury.
It is impossible to eliminate injuries from sport but some of them can be prevented. One of the best way to minimise the risk of injury is through optimal strengthening in order to withstand the forces of your chosen sport.
You should pay specific attention to the training of these areas:
A comprehensive shoulder and upper body strengthening program is essential and one area not to miss is the rotator cuff in order to maximise the dynamic stability of the joint and allow maximum power production from the larger deltoid, latissimus dorsi and pectoral muscles.
Strong quads, glutes, hamstrings and calves are essential in producing maximal force.Squats, deadlifts, hip thrusts to name a few are great exercises for strengthening the legs. These must be complimented by plyometric training and agility drills, that involve jumps and speed strength exercises, to help control the huge forces involved in the game.
Rest and recovery are as important as training. With fast running and constant impact, giving your tissues time to heal and recover will make you ready for the next sessions and games, with a decreased risk of injury.
How to deal with rugby injuries
If you are dealing with a shoulder, hamstring or any joint injury, following your rugby training or match play, the best way to manage it and get back to full function as soon as possible, is to have rapid access to the appropriate health professional.
Here at New Victoria Hospital, our Physiotherapy Department is perfectly positioned to assess and treat injuries sustained on the training ground and during match play. 
Our highly skilled and experienced team of senior physiotherapists can provide accurate diagnosis and treatment plans to facilitate a smooth recovery and get you back to match ready as soon as possible in our brand-new, fully-equipped space.
Should you need to book a Physiotherapy appointment, you can call 020 8949 9040.
We also run Sports & Injury Clinics six days a week that provide fast access to the most appropriate specialists who will manage your condition with an integrative approach.
For more serious injuries requiring an x-ray or MRI or an appointment with one of our Orthopaedic Consultants, New Victoria Physiotherapy are perfectly situated to refer you for an appropriate scan in our state-of-the-art imaging suite or help arrange an onward referral to a Consultant.
I hope you all enjoy the Six Nations and let's hope this Championship has the lowest injury rate yet!
If you have already seen a Physiotherapist at New Victoria Hospital or elsewhere, and need to make an appointment with a Consultant Orthopaedic or Pain Management specialist, call 020 8949 9020 or book online.