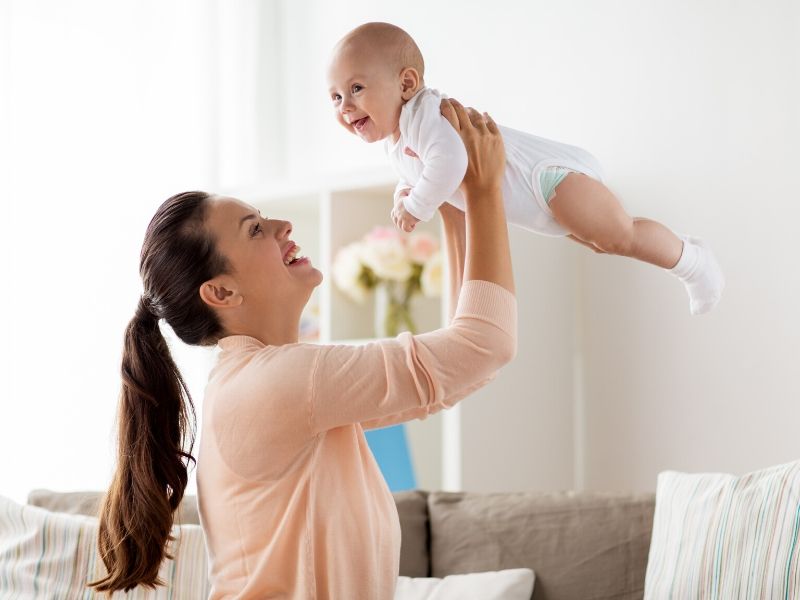 After nine months of growing and carrying a little human being inside your womb, you can't wait to meet your new baby. You are happy and excited, until the homecoming reality hits you. With a newborn at home, they are your number one priority. It is all about your new baby now. They have your full attention, drain all your energy, sleep and strength. Your needs are on the back burner. But your self-care and wellbeing are equally important. Mummy MOT is a great way to start looking after your health after pregnancy.
Mummy MOT is the postnatal check-up that every mum should have
Pregnancy, although being one of the most memorable periods of your life, has a physical impact on your whole body. Carrying a baby in your womb does take its toll on your muscles and joints. It greatly impacts your abdominal muscles, your pelvic floor and your posture.
The Mummy MOT is a specialist examination to check your pelvic floor, abdominal muscles and general posture after you gave birth. After an in-depth assessment by a physiotherapist specialised in women's health, a plan with tailored exercises is outlined to treat or prevent dysfunctions or conditions related to pregnancy or childbirth and restore your wellbeing and posture.
Common problems after pregnancy and childbirth
Conditions related to childbirth might still be considered a taboo for some women, but they are more common than you think.
Up to 50% of all women experience weakness in both the abdominal muscles and pelvic floor muscles following pregnancy and this can lead to pelvic pain or bladder, bowel and sexual dysfunction.
Common conditions seen in women after childbirth are:
This is a tummy separation between the two sides of your rectus tummy muscles and sometimes causes doming along the central part of your belly. Up to a third of new mums still have a gap 8 weeks post birth.
The organs within a woman's pelvis (uterus, bladder and rectum) are normally held in place by ligaments and muscles known as the pelvic floor. If these are weakened, the pelvic organs can bulge from their natural position into the vagina. This is known as pelvic organ prolapse. Commonly the symptoms are a feeling of dragging or heaviness in the pelvic area, a bulge at the front or back wall of the vagina or difficulties with continence.      
Bladder or bowel problems 
Leaking (urine, stool, wind) or constipation can be quite common. Leaks while coughing, laughing or sneezing affect over 33% of women after pregnancy, and this is caused by the weakened pelvic floor muscles.
Back, pelvic or coccyx pain
The load on your back during pregnancy can affect your knee and hip joints pelvic, back, and have an impact on your overall posture as you try to adjust to  pregnancy and the demands of motherhood, including feeding and lifting, which can be physically demanding.
It is not uncommon to have pain on sexual intercourse following vaginal delivery. Pain can also follow on from 3rd and 4th degree tears and from tightness in the pelvic floor muscles.
Pregnancy and childbirth can have an impact on your body and wellbeing in different ways and to a different extent. Sometimes ailments problems can manifest many years after you have had your baby, which is why it is so important to have your Mummy MOT after pregnancy. 
It is important to undergo a comprehensive examination, such as Mummy MOT, as early intervention means problems are easier to resolve and can reduce long term pelvic issues.
What does a Mummy MOT involves?
A Mummy MOT usually lasts one hour. It is carried out by a specialist Women's Health Physiotherapist and includes assessment of:
Your pelvic floor strength
Your tummy gap
Any physical problems arising from childbirth or pregnancy
After the Mommy MOT, a bespoke postnatal recovery program will be recommended. This includes advice and exercises for correct posture, breathing and core activation.
Why is postnatal rehab important?
The Mummy MOT is not designed for new mums only; it can even be done years after childbirth. 
It is recommended after six weeks postnatal, when you have had your six week GP check post delivery.
You will feel more in control of your muscles, posture and overall wellbeing. Mummy MOT is the first step to look after yourself in a period where your health is often overlooked due to your baby's needs. But mom's health matters…happy mom, happy child!
So, what's better than a Mummy MOT to celebrate Mother's Day?
If you would like to book a Mummy MOT//link// at New Victoria Hospital Physio Department, you can make an appointment by calling 020 8949 9040 or completing our booking form online. Our specialist Women's Health Physiotherapist, Catherine Greenstreet, will be happy to address your concerns and target your areas of improvement with bespoke exercises.