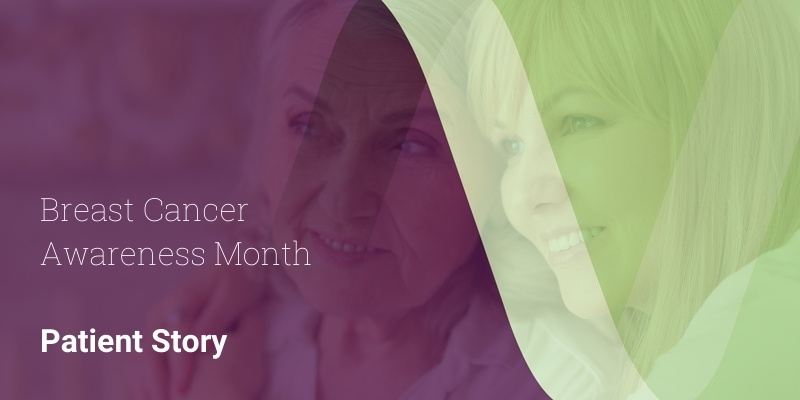 Patient empowerment is essential both as a process and outcome. Breast patients, Mona and Andrea, share their experience at New Victoria's One-Stop Breast Clinic, highlighting the importance of making informed decisions.
Breast cancer affects 1 in 7 women in the UK. For Breast Cancer Awareness Month, we've spoken about the importance of cancer screening and prevention and the benefits of New Victoria Hospital's One-Stop Breast Clinic in our previous blog article.
Today we would like to share with you the story of Mona and Andrea, two women who attended NVH One-Stop Breast Clinic and received very attentive care thanks to our multidisciplinary approach and fast track access to consultation and diagnosis.
Mona: the One-Stop Breast Clinic is my idea of less stress
"Before Covid, I was not aware of belonging to the 70+ group.
Unfortunately, I also was not aware, I should have had a yearly Mammogram test after the age of 70.
I detected the abnormality in my large breast by pure chance. After seeing my GP, I began my treatment under the NHS. I then decided to have a double Mastectomy at New Victoria Hospital under Prof Zoe Winters and her team.
It was a very successful experience. I like my new shape. The knowledgeable, trustworthy and caring treatment at NVH with its tasteful facilities made my recovery so easy.
I wish I had known about New Victoria's One-Stop Breast Clinic earlier
I wish I would have known about New Victoria's One-Stop Breast Clinic earlier in order to have the choice to get the complete cancer treatment there.
Their Self Pay option is comfortable, and I didn't have to worry about additional fees as it was an all-inclusive package.
Having the One-Stop Breast Clinic is my idea of less stress to resolve and treat the problem, more efficiently and quicker".
Andrea: Maintaining control into a chaotic process 
"I have just turned 49 years old. I live in Surrey with my husband Andy and daughter Holly who will be 7 in November. I work for a large pharmaceutical wholesaler and am sole breadwinner, whilst Andy is a wonderful full-time parent doing the most important job of looking after Holly. 
My business is extremely high pressured. I usually run at a million mph, and anything less than 100% just doesn't cut it. Our colleagues are classed as key workers given that we deliver life-saving medication and essential healthcare products to the NHS, pharmacies and hospitals across the UK on a twice-daily basis and so when the Covid pandemic hit, we went into full crisis mode.
My annual screening mammogram came round in March.
I have yearly scans as my mother had breast cancer twice and then sadly passed away due to ovarian cancer. I was concerned when I was told I had pinky brown discharge coming out from my left nipple.
I was reassured that most likely nothing and indeed when I got the results a couple of weeks later, I got the standard 'all OK, see you next year' one-liner letter. I promptly pushed any worries to the back of my mind and continued focusing on work and the craziness that was ensuing in a Covid world. 
A month or so later, however, I started noticing some pinky-brown spotting on bras and other clothing. I also found a small lump by my nipple. My breasts were feeling heavy and aching specifically on the left side, which was displaying symptoms.
Considering the recent clear mammogram result, I wasn't overly panicky. I spoke to my GP who got me quickly referred back to the breast team who sent me for further tests.
The night before that appointment, I noticed a large hard area on the side of my breast, not a lump as such, but definitely noticeable. Not sure how I hadn't picked up on it before. Again though nothing showed up on the mammogram, but the doctor was concerned about the hard area when she did the ultrasound and took biopsies there and then. 
Two weeks later, I had a telephone consultation, and I was absolutely shocked to receive a diagnosis of DCIS intermediate level in my left breast. I honestly was not expecting it but went straight into pragmatic, action crisis mode. I pressed on with organising MRI and other tests so we could confirm the extent of disease and work out a treatment plan. 
This was all done initially through an NHS consultant, but I am lucky to have medical insurance which when we got as far as we could with investigations being progressed on the NHS, I triggered.
As a result of the pandemic, local private hospitals were under the jurisdiction of the NHS, and so I had to look further afield to find a suitable consultant to look after me. This turned out to be a godsend and actually the silver lining of the Coronavirus situation as I was lucky enough to go under the care of Professor Winters.
Knowledge is power
Obviously, trust is key, but you also need a level of chemistry with your consultant who you are going to be discussing and sharing some very intimate and often distressing situations with.
For me, knowledge is also power and I found the 'being out of control' aspect of my diagnosis incredibly challenging as in my personal and professional life I have to juggle a lot of responsibility and being organised, planned and in control is how I cope.
From my initial chat with Jenny, Prof Zoe's practice manager to the moment I met Zoe in clinic at the New Victoria Hospital (the first clinician I had actually met face to face since my diagnosis), I knew I had made the right choice and was in the best hands.
Professor Winters was to me the perfect blend of providing informative and expert consultation taking the time to talk through all aspects of tests, scans, biopsies, results etc to ensure I understood everything. She showed empathy and understanding of what I was going through.
As a lover of detail myself, Zoe left no stone unturned and was beyond thorough to ensure we made informed decisions on my surgery and treatment plan. She gave me back my power and control and I will be forever grateful for that and cannot thank Professor Zoe enough. 
I was so assured that whatever additional help and counsel was required, Professor Zoe will recruit and bring the very best experts on to the team to look after me. I really had and still have the best of the best on my side.
I still struggle with acceptance of everything that has been happening to me as at each appointment, things seem to worsen, and I had to take in more and more bad news to get my head around.
I have had a skin-sparing mastectomy of my left breast with immediate reconstruction and post pathology results revealed a large area of invasive cancer as well, which was a shock.
But we got it in time, and I am now doing all possible to prevent it coming back which has included radiotherapy and now hormone therapy which has required me to have medically induced menopause. I have more surgery ahead to help me 'get my body' back, but I have a top, first-class plastic surgery caring for me, thanks to Zoe.
I often think about what the situation could have been if I had just left things and not persisted with checks. What if I had left it because I was too busy and didn't get round to it until next year's annual check. Thankfully, I didn't, and my clear message is that YOU know your body better than anyone else or any machine and so trust your gut instinct and if in doubt, check it out. It might be nothing, which is great but if it is something, you can get it early and do something about it."
If you would like to receive more information on the One-Stop Breast Clinic at New Victoria Hospital or book an appointment with one of our breast specialists, please call 020 8949 9020 or: