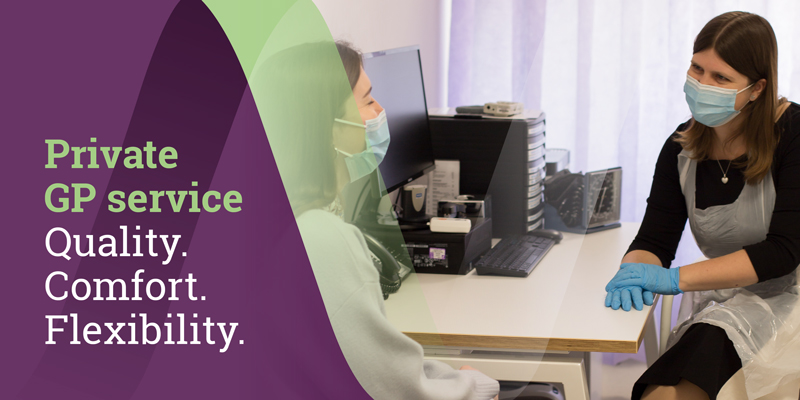 New Victoria Hospital is delighted to start its new private GP Service on Monday, 01 March 2021. The service will allow local patients and their families to access face-to-face consultations six days a week, during this pandemic. Virtual appointments will also be available, and patients will be able to book the services they require, online.
The new private GP Service offers face-to-face and virtual appointments
The new private GP Service is run by New Victoria Hospital, six days a week, Monday to Saturday, to provide young and adult patients with local primary care.
During this pandemic, healthcare and routine check-ups are being postponed by many, and some people do not feel comfortable with virtual consultations.
By launching our GP service, we will give the opportunity to more patients to look after their health and invite them not to delay check-ups.
Prevention and early diagnosis are always key to excellent health and better treatment outcomes.
"The new GP Service will contribute to improving healthcare access locally."- comments New Victoria Hospital's CEO, David Marshall - "Patients will also benefit from dedicated consultation time with their GP and quick referrals to our specialist Consultants, Imaging and Physiotherapy services."
Patients who would like to book a face-to-face consultation are invited to read our recent Covid-19 guidelines.
Meet New Victoria Hospital's GPs
Our GPs are passionate about their work. They believe having strong and trusted relationships with patients is key to optimal care outcomes.
They adopt a holistic approach when treating patients and have their physical and mental wellbeing at heart.
Our General Practitioners are well-known in south London and Surrey area, having worked locally for over a decade.
Dr Lowri Bailey
Dr Lowri Bailey graduated from the University of Manchester in 1999 and over the years working as GP in a number of clinics has developed a special interest in fertility, antenatal and postnatal care.
She is also a member of the Royal College of Paediatrics.
She spends most of her time away from work either looking after her three children or running in Richmond Park.
Dr Kirsty Schmidt
Dr Kirsty Schmidt graduated from the University of Leicester in 2004 and has worked extensively in the local area at several GP practices since 2009. She has a particular interest in paediatrics, especially paediatric allergy.
She teaches allied health professionals in training and is a member of the Local Medical Committee.
She enjoys travelling and reading during her spare time.
The New Victoria Hospital's private GP Service
GP appointments can be booked online or by calling us on 020 8949 9640, Monday to Saturday.
20-minute face-to-face and virtual consultations are available at a price of £95. Patients also have the option to book an extended 30-minute appointment, should they require more time with the GP.
Our GPs can provide consultations to cover:
Acute and chronic conditions
Children's Health
Postnatal Health
Fit notes and referral letters
Prescriptions
Blood Tests
More details on our private GP services are available on our dedicated web page.
Private GP benefits
Patients can meet their GP in a welcoming and safe environment, with short waiting times and quick access to specialist care.
The private GP Service at New Victoria Hospital will provide patients with:
Extended appointment options
Fast access to specialist care
Quick path to diagnostic services such as Imaging and blood test
Quick referral for Physiotherapy treatments
On-site Pharmacy for speedy collection of drugs and therapy start
Our GPs look forward to meeting all New Victoria Hospital patients and being part of our lovely community.
To book an appointment with one of our GPs, please use our online booking system or call us on 020 8949 9640.