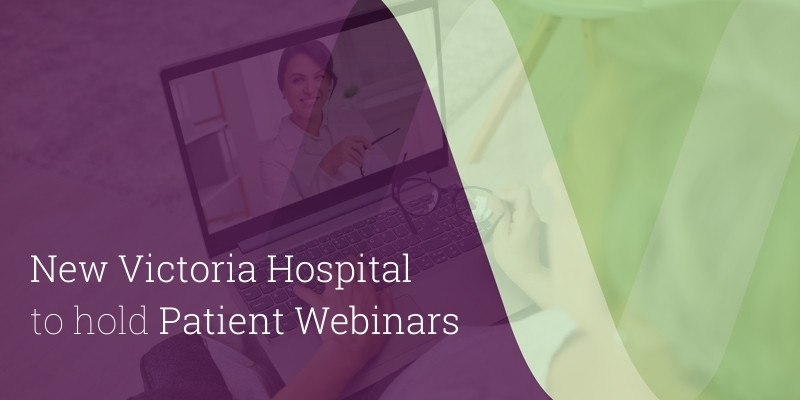 New Victoria Hospital is delighted to launch a series of dedicated patient webinars on Zoom where specialist Consultants will answer questions and give personalised medical advice on symptoms and treatments during the online event. The first five sessions will focus on joint pain management, including hip, knee, shoulder, foot & ankle and hand & wrist conditions and ailments. Patients can submit their anonymous questions alongside their registration to the event.
With these upcoming Patient Webinars, we would like to give our local community the opportunity to discuss their health concerns with our specialists as an initial step towards accurate diagnosis and treatment and ultimately a better quality of life.
New Victoria Hospital's patient webinars on Zoom
All Patient Webinars will be held on Zoom on weekdays at 7pm, with a duration of 45 minutes.
During the online session, the Consultant will reply to the questions submitted by the attendees during the registration process.
How to access New Victoria Hospital's Patient Webinars
To access the Patient Webinars, you need to register for each event you are interested in on Eventbrite.
Select the event you would like to join and follow the instructions:
Click on the Register button
Complete the registration form with your details
At the end of the form, you will have an opportunity to ask any questions that the Consultant will answer during the webinar
Once registered, you will receive a confirmation email with a Zoom link to the webinar
At the time of the event, click on the link provided in the confirmation email. You will automatically join the online event from the comfort of your home.
Orthopaedic Webinars dates
Mr Ashwin Unnithan, Consultant Specialist Hip Surgeon, will advise on how to manage hip pain, what treatments are available and how to improve the quality of your life if your hip is injured or painful.
Some of the hip conditions that can be discussed during the webinar include:
Hip arthritis
Hip dysplasia
Hip pain
Hip bursitis
Reduced hip mobility
Mr John Dabis, Consultant Specialist Knee Surgeon, will talk about knee injuries and conditions as well as treatment options, including sport injury risks and age-related niggles.
Some of the knee conditions that can be discussed during the webinar include:
Knee arthritis
Sprained ligaments or muscles
Torn cartilage
Meniscus injuries
Tendon inflammation
Prof Mo Imam, Consultant Specialist Shoulder Surgeon, will be online to discuss shoulder mobility ailments, injuries and tissue inflammation and will offer his expertise to advise on symptoms and treatment options.
Some of the shoulder conditions that can be discussed during the webinar include:
Bursitis
Shoulder impingement
Frozen shoulder
Subluxation
Tendon tear
Mr Tim Sinnett, Consultant Specialist Foot & Ankle Surgeon, will advise on foot and ankle symptoms to pay attention to, common injuries, prevention and available treatments.
Some of the foot & ankle conditions that can be discussed during the webinar include:
Achilles tendonitis
Plantar fasciitis
Bunions
Ankle sprains
Pain at the ball of your foot
Mr Nashat Siddiqui, Consultant Specialist Upper Limb Surgeon, will be available to answer your questions on hand and wrist pain, treatments for common ailments and when you should see a specialist.
Some of the hand & wrist conditions that can be discussed during the webinar include:
Carpal tunnel
Arthritis
Numbness in your hand or fingers
Inability to hold objects  
Pain and clicking
Loss of strength, swelling or stiffness
If you suffer from joint pain, this is an excellent opportunity to receive free medical advice from our highly specialised Orthopaedic Consultants.
Should you have any questions, please contact us on 020 8949 9090 or email us at [email protected]