Phlebotomy is when a blood sample is taken from a patient to be examined in a laboratory. Blood tests are used for a variety of different reasons, but most commonly blood samples are taken by a phlebotomist to identify the presence of a specific medical condition or investigate problems with a patient's health.
At New Victoria Hospital, our highly experienced private Phlebotomy team will ensure you are well looked after from the moment you enter our clinic. After a blood sample has been taken by a healthcare professional, it will be sent to one of our participating laboratories for inspection.
What is Phlebotomy?
Phlebotomy is the method of taking a blood sample for medical testing, transfusions or blood donation. The most common way for a blood sample to be taken is by a healthcare professional who will insert a needle into a vein in the body (typically a vein in the patient's arm) to draw blood. Other methods used by Phlebotomists include collecting blood via venipuncture and finger pricks.
While blood tests are most commonly used to assess a patient's general state of health, they can be used to indicate the presence of a range of specific health issues and conditions. Through a blood test not only will a doctor be able to assess how a patient's body is functioning, it will also allow them to draw conclusions about how individual organs are performing. In some cases, a blood test may be taken to screen a patient for suspected genetic conditions.
Other times, blood tests may be taken to observe how the body is reacting to a known condition. For instance, some common checks are completed to see how a patient's body is reacting to illness, injury, inflammation, or infection or even how it is coping with prescribed medications.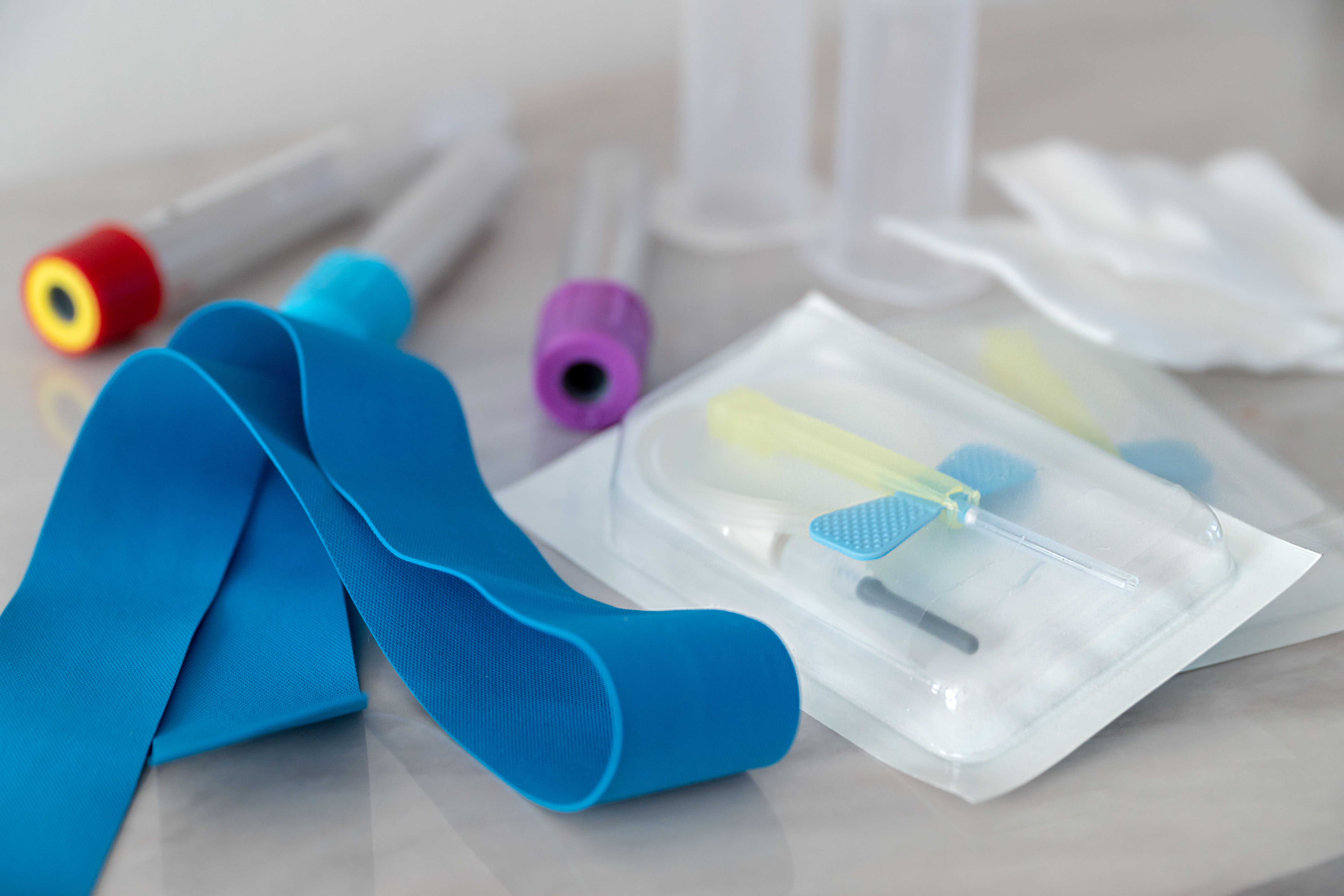 Phlebotomy at New Victoria Hospital
Following a consultation with a Consultant, you may be referred to our Phlebotomy clinic to investigate your body's functionality. This can either be to check for an underlying health condition or monitor a pre-existing condition.
Whatever your reasoning may be, our team at New Victoria Hospital are here to ensure you receive the highest standard of care. Our experienced team will provide you with the specific instructions you will need to follow prior to your test.
There are two types of blood tests you may have to prepare for:
●      Fasting blood tests - you may be directed to avoid eating anything leading up to your blood test. This may include being asked to avoid smoking as well. Fasting tests can give doctors an idea of the patient's bodily function without external interference from food, medication and other factors. These tests typically have to be pre booked.
●      Non-fasting blood tests - a patient may eat, drink and continue their normal routines prior to the blood test. It is important you follow the directions given to you prior to a blood test as not doing so could result in a delay or the blood test having to be carried out again. These tests don't require pre booking.
Outpatients can receive walk-in blood tests and pathology samples Monday to Friday 08:00-19:30, and 08:00-13:30 on Saturdays.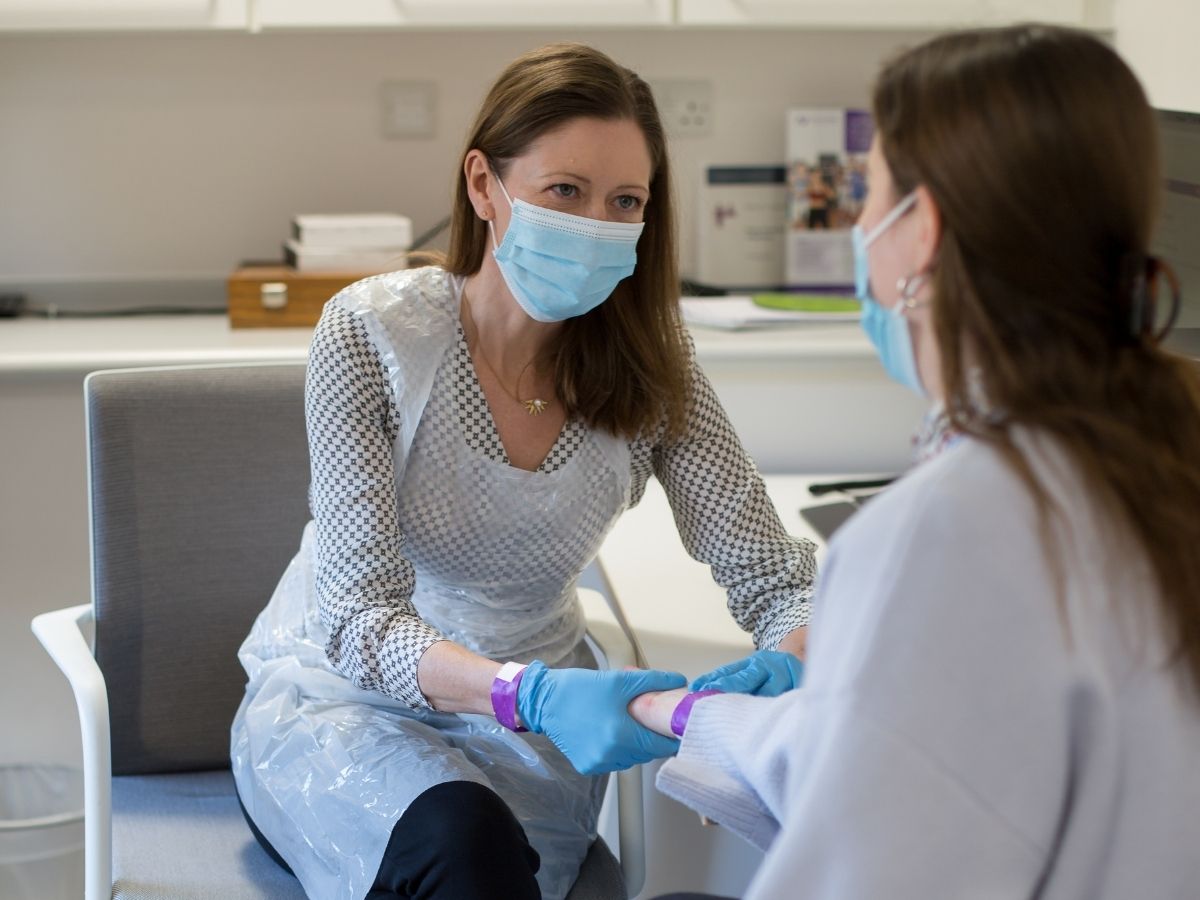 How is the blood taken?
Patients will be asked to sit down in a chair and directed to roll up their sleeve to expose their upper arm. A tight band (tourniquet) will be placed around the patient's bicep to temporarily slow down the flow of blood, making it easier for a sample to be taken from the veins in the lower parts of the arm.
A numbing cream may be used on the site location, especially for children, followed by an antiseptic wipe to clean the area before insertion. A phlebotomist will insert a needle syringed instrument into the patient's vein to draw a sample of blood. This will feel like a sharp prick and not be too painful. Once the container is filled, the needle and tourniquet will be removed and a cotton pad will be placed over the wound.
A blood test should only take a couple of minutes to complete. If you do not like needles or blood, or start to feel faint during the extraction, please make your phlebotomist aware so they can ensure you feel comfortable during your test. Our multidisciplinary team is trained to carefully take blood to ensure every patient's experience is quick, easy and stress-free.
What happens after the test
Once the blood sample has been taken, it will be labelled with the patient's details and sent to the laboratory where it will be tested. The time it takes for the test results to come back can vary depending on the tests being performed. In some cases, it might be the same day, other times it can take a few weeks before the results are received.
Our dedicated team at New Victoria Hospital will ensure your Consultant will receive your test results in a timely manner and will guide you on further steps if necessary following diagnosis.