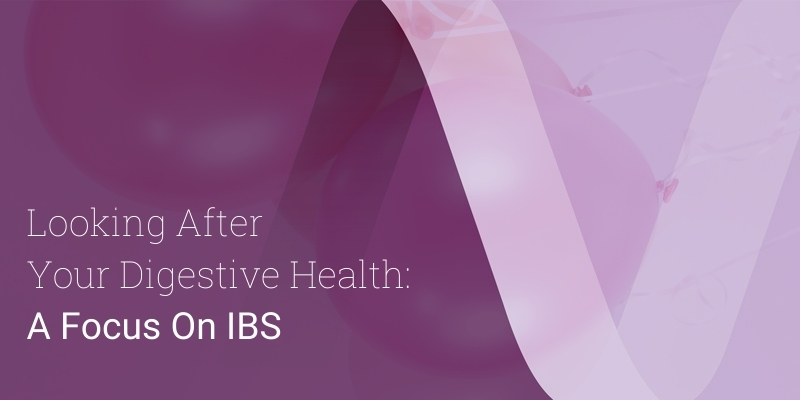 Abdominal pain, bloating, cramping, diarrhoea and constipation are the most common symptoms of IBS, Irritable Bowel Syndrome. It is an incredibly common condition that affects 1 in 3 people in the UK and can be very distressing. Everyday life, for people suffering from IBS, can be very uncomfortable. With the COVID-19 pandemic, there has been a great change in people's eating habits and an increasingly sedentary lifestyle along with significant health anxieties, which has led to an increase in gastrointestinal functional symptoms. Dr Rishi Goel, Consultant Gastroenterologist at New Victoria Hospital, gives guidance on the latest approach to IBS treatment during IBS Awareness Month.
What is IBS?
Irritable bowel syndrome (IBS) is the term given to a group of symptoms characterised by:
Abdominal pain or discomfort
Abdominal bloating
Changes in bowel habit, including diarrhoea and constipation
Other symptoms might include flatulence, nausea, tiredness and lack of energy.
If you suffer from IBS and have flare-ups, you may not feel comfortable around people, and sometimes symptoms can be so severe that you need to stay in bed for a few hours. Your quality of life including social life as well as your productivity at work and leisure time can be affected. You might often feel anxious and depressed and unable to carry out daily tasks.
IBS is rare in patients over the age of 50 years and affects approximately 10% of the general population, most commonly young people, particularly women, who account for 20% of the affected.
IBS causes are not fully known
The precise cause or causes of IBS are unknown and are likely to be complex. It is thought to be due to effects on the gut and brain pathway, between which there are thought to be strong links. There are thought to be a number of various factors involved in the development of IBS, including:
Possible triggers such as infections, inflammation, food antigens and medications
Changes in intestinal permeability ('leaky gut')
Changes in the gut microbiome (the bacteria species which reside in the gut)
Changes in central nervous system function
IBS is diagnosed with symptoms, not tests
IBS is often diagnosed when investigations have not shown any evidence of structural, biochemical or inflammatory disease. IBS is rare in patients over the age of 50 years and the presence of "alarm symptoms'" such as rectal bleeding, weight loss, anaemia, strong family history of cancer or inflammatory bowel disease (IBD) should not be diagnosed as IBS and require a prompt investigation.
Common tests to diagnose IBS
IBS should be diagnosed by clinical features and basic investigations. These include:
Blood tests including full blood count, C-reactive protein, coeliac serology tests and liver function tests.
Faecal calprotectin samples are a very useful marker of intestinal inflammation and the most useful non-invasive test for discriminating between functional symptoms and IBD (inflammatory bowel disease). A negative result makes the diagnosis of IBS very likely and the presence of inflammatory conditions very unlikely.
Stool microscopy & culture sensitivity samples can be helpful to check for infections such as gastroenteritis. Gut infections can lead to post-infectious IBS. 
Endoscopy tests include gastroscopy and lower gastrointestinal endoscopy including flexible sigmoidoscopy and colonoscopy. Although routine, these are invasive tests and so may not be required, usually being reserved for equivocal or complex cases.
Imaging tests include abdominal ultrasound and CT scanning. These may be performed to check for other causes of abdominal pain, such as gallstone disease and diverticulitis.
How to control IBS symptoms and improve the quality of your life
IBS can affect different individuals in different ways leading to a constellation of symptoms. Treatment plans need to be tailored to individual patients.
Dietary modification
Food can play a key role in helping you feel on top of your game when it comes to IBS symptom management. Dietary modification is usually one of the first-line interventions. Noticing if certain foods and eating habits may trigger symptoms can help.
Low FODMAP Diet
The low FODMAP diet involves eliminating particular fermentable carbohydrates and then systematically reintroducing them into the diet.
Responsible foods for IBS symptoms are lots of fruit and vegetables such as asparagus, beetroot, celery, apples, pears and mango, for example, but also most beans and legumes, pasta and other flours, cereals and dairies. The low FODMAP diet is often used as first-line therapy, as it has proved to successfully reduce IBS symptoms in studies.
You should always follow this regimen with the supervision of a specialist and make sure the carbohydrates are reintroduced when symptoms get better.
Soluble fibre
Increase soluble fibre intake and reduce insoluble fibre intake.
Fibre plays a vital role in regulating digestion and has a preventative role for cardiovascular diseases and diabetes. However, if you suffer from IBS, a high intake of insoluble fibre can worsen symptoms.
You should trial certain foods such as oats, peas, beans, apples, citrus fruits, carrots, barley and psyllium, rich in soluble fibre, over whole-wheat flours, bran, nuts, beans and vegetables, such as cauliflower, green beans and potatoes.
Peppermint oil
Peppermint oil has been shown to be a simple treatment that can give benefit for some IBS symptoms.
Medical treatment
The right drug needs to be selected to help specifically target and treat the patient's symptoms. A systematic trial and error approach may need to be adopted with different drugs combined to improve their effectiveness.
Probiotics
Probiotics may be effective, but more robust clinical trial evidence is needed to prove their effectiveness.
Antispasmodic drugs
Antispasmodic drugs may be effective for abdominal pains and particularly spasm-type pains.
Prucalopride is a drug that has been shown to effectively treat young women with IBS and constipation.
Rifaxamin is an antibiotic treatment that has been shown to possibly improve IBS symptoms.
Amitriptyline is a drug that acts on the nervous system and works as a nerve painkiller. It has been shown to help improve IBS symptoms, particularly abdominal pain. 
Psychological counselling
Psychological counselling may be effective for certain individuals with abdominal pain.
If you experience IBS symptoms and you would like to see our Gastroenterologists, you can call us on 020 8949 9020 or: