Travel and Flu Vaccinations
Vaccinations are used to train the body's immune system to fight infectious diseases that it hasn't come into contact with previously. They are designed to lessen the chances of an individual from contracting the infectious disease, or to at least reduce their chances of having a bad reaction if they do become infected. 
At New Victoria Hospital, we offer a comprehensive private vaccination service through our pharmacy and GP Service, providing both flu and travel vaccinations.
What is a vaccine?
Vaccines are used as a preventative medicine to fight infectious diseases and viruses. They train your body to produce antibodies that fight particular diseases. Vaccines contain an agent that resembles a disease-causing microorganism, this is typically in the form of a killed or weakened form of germs like viruses or bacteria. This is used to mimic the disease and build up the body's natural antibody production. 
In the future, if the body comes across that particular disease again it will remember the antibodies it needs to produce and how to fight it. A vaccine is usually administered through needle injections. In some cases, vaccines can be administered through the mouth or nose, although this is incredibly rare.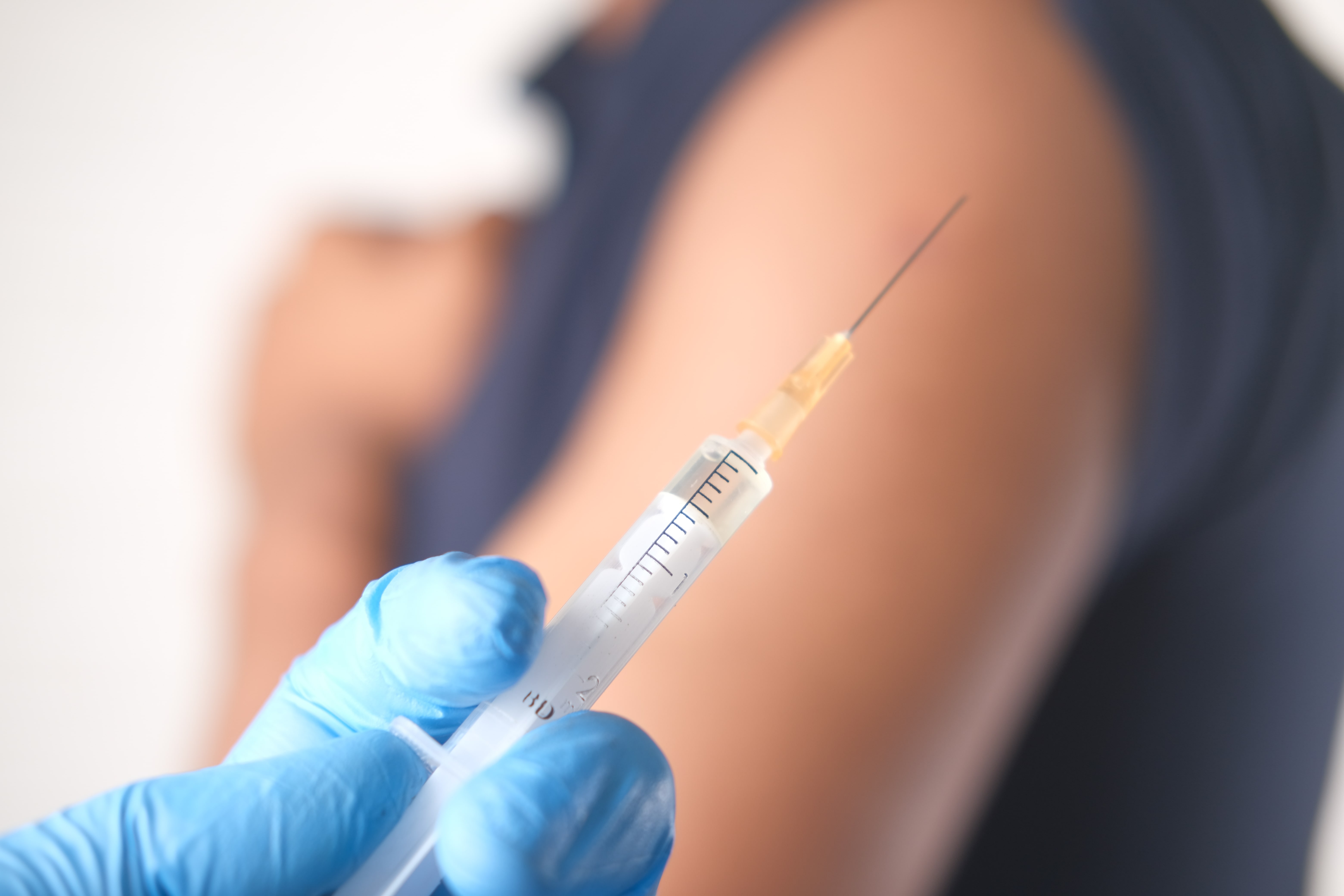 Types of vaccinations
As vaccines are used as a precautionary method, the type of vaccine you require will depend on the type of illness you are trying to avoid. At New Victoria Hospital, we offer a wide range of vaccines. 
These include: 
Flu vaccinations 
The flu vaccine is offered throughout the year to protect individuals from getting seriously ill from the flu. Whilst most people who get the flu will only suffer with unpleasant side effects, for others it may be extremely dangerous and even life threatening. That's why receiving a flu vaccine can prevent the disease from escalating, as the patient will have early protection against the main types of flu viruses.
For some high risk individuals, receiving the flu vaccine is incredibly important as this will protect them in the future. Some high risk patients include, but are not limited to:
Patients aged 65 and over.
Individuals with underlying health problems or genetic conditions, such as diabetes, heart conditions, etc. Patients who suffer from respiratory conditions like asthma and bronchitis may be of higher risk of developing bad cases of flu.
A patient that is pregnant.
Frontline healthcare workers and social workers. 
It is recommended you get the vaccine before the spread of flu is at its peak during the winter months. Autumn and early winter is the ideal time to get vaccinated in preparation for the flu season, however it is possible to get it later than this. It is not recommended that you get the flu vaccine if you have had a bad allergic reaction to a previous flu vaccine. 
All flu vaccines are given to patients through an injection. The needle which contains the flu vaccine is inserted into the muscle in the upper arm of the patient. Once the flu vaccine is administered, it can take up to 10-14 days for the flu vaccine to work. 
Most often patients will have mild side effects from the flu vaccine, however in some cases symptoms may appear. Symptoms can show as:
A mild fever.
Achy muscles. 
Soreness and bruising when the needle was inserted. 
The following flu vaccines are available at New Victoria Hospital:
Influenza/Flu (Quadrivalent Inactivated) for 6 months to 64 years
Influenza (Trivalent Inactivated) for 65 years and over
Influenza/Flu Tetra (Nasal Flu Vaccine)
Travel Vaccinations 
If you are planning to travel out of the country, you may be required to be vaccinated against diseases and infections found overseas. It is important you check what travel vaccinations you will need to have before you travel to a particular destination. 
We recommend you receive your travel vaccinations at least 8 weeks before travelling to allow your body time to develop immunity. Some vaccinations may require several doses over a span of several weeks or months. It is therefore important to plan your travel vaccinations in advance to ensure you have enough time to receive all your vaccination requirements.
List of Vaccinations
At New Victoria Hospital we offer a comprehensive travel vaccination service providing affordable travel vaccinations for patients. Our attentive team is on hand to advise you on the appropriate vaccinations you will require ahead of your trip. At New Victoria Hospital we provide the following travel vaccinations:
Vaccine
Price Per Dose
BCG
£90
Chickenpox
£90
Diphtheria, Tetanus and Polio
£60
Diphtheria, Tetatnus, Pertussis and Polio
£80
Hepatitis A

£80 (Adult)

£70 (Child)

Hepatitis B

£70 (Adult) 

£65 (Child)

Hepatitis A&B

£95 (Adult)

£80 (Child)

Hepatitis A & Typhoid

£80
Hib/Men C
£90
HPV (Gardasil 9)
£165
Infanrix IPV + Hib (5 in 1)
£85
Influenza/Flu (Quadrivalent Inactivated ) (6 months – 64 years)
£40
Influenza (Trivalent Inactivated) (65 years and over)
£40
Influenza/Flu Tetra (Nasal Flu Vaccine)
£50
Japanese Encephalitis
£135
Meningitis ACWY
£90
Meningitis B
£135
MMR
£65
Pneumonia (Pneumovax 23)
£75
Pneumonia (Prevenar 13)
£105
Rabies
£120
Shingles (Live) (Zostavax)
£180
Singles (Inactivated) (Shingrix)
£250
Tick Borne Encephalitis

£95 (Adult)

£90 (Child)

Typhoid
£65
Whooping Cough
£80
In addition to the above, we also offer BCG, Chicken Pox, Shingles, HPV and Pneumonia vaccines.
If you are looking for a specific travel vaccine that is not mentioned above, please contact our team at New Victoria Hospital to discuss our available vaccines.
Payment
Price includes assessment, prescribing and administration.
Patients will be required to pay New Victoria Hospital Pharmacy directly for their vaccines. 
Please note, prices of individual vaccines are subject to change.
The prices listed are per vaccine dose.
Some immunisations require more than one dose.
How to book a vaccination appointment
If you would like to receive more information on the vaccines available at New Victoria Hospital or book an appointment, please contact our Pharmacy Department on 020 8949 9076 or email [email protected].
Our Pharmacy opening hours are:
Monday – Friday 8am – 8pm
Saturday 8am – 4pm.
Our GP Service  is open 6 days a week with same-day appointments usually available.
If you would like more information on our Vaccination andPharmacy services available at New Victoria Hospital, please call us on 020 8949 9076 or email [email protected]. You can book an appointment online through our GP Service.