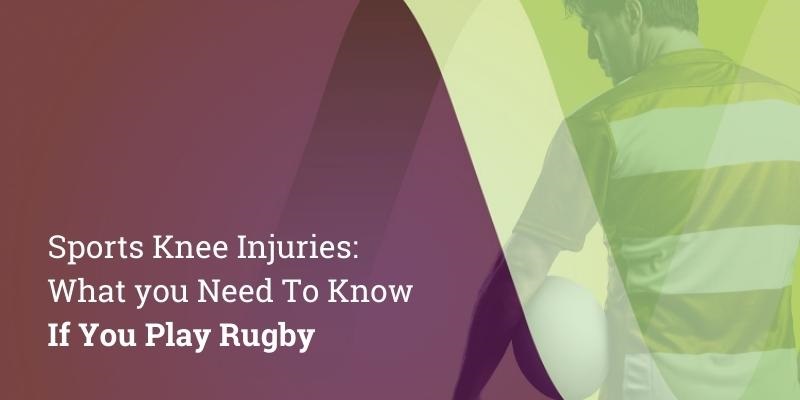 The Six Nations Rugby is here again and, while we can't wait to watch Round 4 many of us will be inspired to get out onto the rugby fields. However, sports injuries are not uncommon, particularly knee injuries, as our Consultant Specialist Knee Surgeon Mr Khalid Al-Dadah, talks about in our latest blog article.
What Is The Anatomy Of The Knee?
The knee is a hinge joint that can take up to 7 times your body weight in day-to-day activities. This is the most force taken out of any joint in the body, and as a result, is very robust.
The femur and the tibia are surrounded by cartilage, known as hyaline cartilage that protects and lubricates the joint. There are 2 meniscus on each side of the knee that act as shock absorbers.
Knee ligaments
There are 4 main ligaments in the knee which maintain its stability and function and can be imagined as 4 tensioned ropes. These are:
Anterior Cruciate Ligament (ACL)
Posterior Cruciate Ligament (PCL)
Medial Collateral Ligament (MCL)
Lateral Collateral Ligament (LCL)
As the name suggests, the 2 cruciate ligaments cross each other while the collateral ligaments are strut ligaments on either side of the knee, providing stability in agile side-to-side movements.
How Can Rugby Impact On Structures In The Knee?
The commonest injuries in rugby players are ruptures of the internal ligaments, and if not treated promptly and properly, can lead to chronic instability and inability to play.
Injuries to the meniscus and cartilages are also common, and can be a challenge to treat, as these structures do not have a good blood supply or strong potential to heal.
Therefore, one of the most important protective mechanisms you can use is good quadriceps strength.
The quadriceps muscle engulfs the knee, providing you with significant protection, and has a vital function as a dynamic secondary stabiliser of the knee.
What Are The Most Common Rugby Knee Injuries?
If you love playing rugby and do your best to thrive on the pitch, being aware of the most common knee injuries might help you prevent them:
ACL Rupture
The ACL most commonly ruptures in non-contact pivoting injuries, when the knee forcibly twists while locked in terminal extension.
This is interestingly most common in the left knee, as right footed players have their left leg planted when a tackle occurs.
Unfortunately, the ACL has no blood supply, therefore once it ruptures, you will have no potential to heal.
An absent ACL can lead onto recurrent instability,  causing further damage to other structures within the knee. 
If you have  recurrent instability, you will require an ACL reconstruction.
The ends cannot be repaired as they tend to be badly damaged, therefore a new ACL must be created.
Your own structures are used, most commonly, the hamstring tendons. This is performed through minimally invasive key-hole surgery.
PCL Rupture
Most PCL ruptures occur in rugby players. The PCL provides stability to prevent your knee from falling backwards, along with rotational stability.
A PCL rupture occurs from a direct blow to the front of your knee, therefore this type of injury is most common if you are at the receiving end of a direct anterior tackle.
Unlike the ACL, the PCL thankfully does have a reasonably good blood supply, and therefore you will have a potential to heal without surgery.
It is vital that you are assessed at the earliest opportunity by a Specialist Knee Surgeon and the appropriate investigations carried out, so that a custom fitted PCL Knee Brace can be applied in order to optimise your healing potential.
MCL and LCL Ruptures
Collateral ligament injuries occur from side tackles, when the knee bends awkwardly against a significant side force.
The collateral ligaments are crucial for agile side-stepping movements, such as changing directions to avoid a tackle. Collateral ligaments, like the PCL, also have a reasonable blood supply.
If diagnosed early, and if appropriate bracing and rehab is commenced quickly, you will have the potential to heal with non-operative management. If persistent instability occurs, surgical reconstruction will be discussed with you.
Meniscal Tears
Meniscal tissue can easily tear like a piece of paper, and is the single most common sports knee injury in athletes.
Unfortunately, the meniscus does not have a very good blood supply, and tears come in many different shapes, sizes and complexities. The most aggressive tear is a locked bucket handle meniscal tear.
This is when the majority of the meniscus tears, flips into the middle of the knee, and causes significant reduction in knee function.
These tears must be diagnosed urgently by a Specialist Sports Knee Surgeon, and operated on early as there is a good chance of repairing and preserving the meniscus in these circumstances.
Lesser tears can go through appropriate rehab, and if still symptomatic, can undergo arthroscopic key-hole surgery to the knee.
Cartilage Injuries
Cartilage defects are less common sports knee injuries, but the most challenging to treat.
Cartilage does not have a blood supply, and can cause you persistent background pain, therefore any damage poses a surgical challenge.
There are several reconstructive options available, and these will be discussed with you in detail.
When Is Surgery Needed?
The most important step in the treatment pathway is early diagnosis and treatment.
Most pathologies can be treated with early targeted rehabilitation while healing potential is at its peak.
Some injuries can be more unstable, leading to chronic problems, and preventing you from returning to sport. If this is the case, careful surgical consideration and reconstructive surgery will be explored and discussed in detail with you.
What Are The Benefits Of Key-Hole Surgery?
Knee arthroscopy surgery has developed significantly over the years. Today, we are able to carry out almost all sports knee surgical procedures using key-hole arthroscopic techniques, where historically it would have required a large and debilitating incision.
With less tissue trauma, this results in a quicker recovery, with significantly less pain and discomfort.
The minimal trauma to the surrounding connective tissues has significant benefits in maintaining knee function in rugby players and elite athletes, substantially improving your recovery time back to pre-injury level.
What Is The Recovery Time After Reconstructive Knee Surgery?
As modern techniques have developed, we have been able to utilise advanced equipment to carry out bigger operations through less invasive procedures.
As a result, this has led to a significant improvement in recovery potential.
For example, the ACL reconstructions we perform are actually stronger than your original ACL.
Our goal is to get players back to their pre-injury level as quickly and as comfortably as possible. All sports knee reconstructive surgeries tend to be day-case procedures now, thanks to our advanced accelerated rehabilitation pathway. 
Physiotherapy treatment begins from the day of surgery, and most patients are able to walk immediately.
Depending on your procedure, we anticipate you to be able to return to a competitive match around 9-months post-surgery.
However, we aim for targeted training to begin just a few weeks after your operation. Each patient is managed closely through our accelerated rehabilitation pathway, bespoke to your needs.
If you are at all worried about any knee pain you might be suffering with, our Consultant Knee Specialists can help. Call us on 020 8949 9020 or complete our online form to make an appointment.